(
Contributed
- by Jeff Lane - 09/22/08)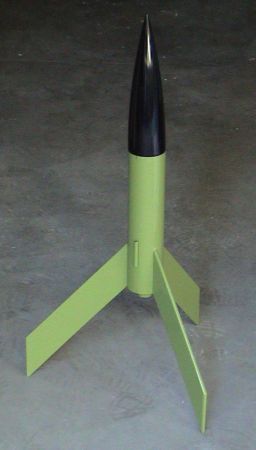 Brief:
This is a 3x upscale of the Sunward Grasshopper. It is a single-stage 29mm motor mount, 3-inch body, parachute recovery rocket.
Construction:
One 12.5 inch long 3" airframe tube, One Mercury Engineering blow-molded nose cone, three 1/4" plywood fins, 1 thin-wall Apogee motor mount tube, 2 foam core centering rings, Kevlar®/elastic shock system, and 24" nylon parachute.
This scratch rocket was easy to build. It has through-the-wall fins glued to the centering rings and motor mount and is very straightforward. No special tools were needed. The body tube and nose cone were purchased from Mercury. Fin material was leftover from Home Depot. Centering ring material was leftover from a display project.
Finishing:
The fins were finished using one coat of Elmer's Wood Filler, followed by two overall coats of high-build automotive filler, with 2 colors of automotive catalyzed acrylic enamel (the nose cone is a deep, nearly black-red and the body is "grasshopper green"). There are no decals.
Flight:
Recommended motors are E28-4, F39-5, G53-5 blackjack. (You can see video of the flight at http://www.cosrocs.org/all%20other%20videos/2008videos/9-13-14/grasshopper.mov.) Prep is standard wadding, although chute compartment is tight. Motor retention is via taping rear closure to motor tube. This rocket takes off at a bit of an angle, but it flies pretty straight after that. Shock cord of Kevlar® and elastic works fine. Recovery was perfect on the 24" nylon parachute. No damage from first flight.
Recovery:
This rocket has a Kevlar®/elastic shock cord system that works fine. The 24" parachute is nylon.
Summary:
PROs: Distinctive design, not something you see every day at the high-power range. Easy to prep. Really nice flight.
CONs: Limited parachute space.