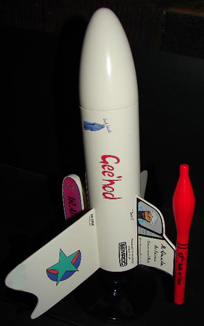 Brief:
This is a Groonie, which I guess is something like a first cousin to the Estes Goonybird. I actually purchased two of these from Semroc, one to build and fly and one to add to the kit collection inventory. It's my first Groony build and I'm glad that I picked this unPC bird to break the ice. This is a very unique looking rocket and it's a lot of fun to build.
Construction:
I won't re-list the components, but I will address the balsa quality issue raised by the previous reviewers. I found the balsa quality to be acceptable. I didn't use any special treatments i.e. paper laminate or CA. However as I stated previously, this is my first Groonie, so time will tell whether or not the fins hold up on this stubby little guy. After all there are a lot of fin surfaces as well as an RPG hanging off this little guy.
The Semroc directions are excellent as always, with a good mix of text and graphics. I found no gotcha's along the way and actuall completely enjoyed the build. Obviously there are a lot of fillets to fill because of all of the extra lumber on this bird, but even that was a snap.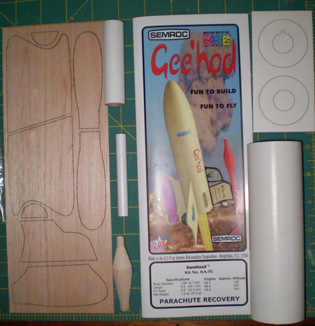 I sanded and filled all of the balsa parts and had to do some extra sanding on the nose cone shoulder to make it fit correctly into the body tube. It took a few series of sanding and wood filler application to get the look I wanted on the nose cone.
Semroc uses the Kevlar thread tied off to the engine mount and connected to an elastic shock cord rather than just a shock cord glued to the inner tube and I really like this setup.
Finishing:
Finishing the model was a breeze. After two coats of primer with sanding in between coats. I covered the RPG and painted the rest of the rocket with two coats of light yellow paint. When that was dry I covered the rocket and painted the RPG red.
The decals were of good quality and went on nicely.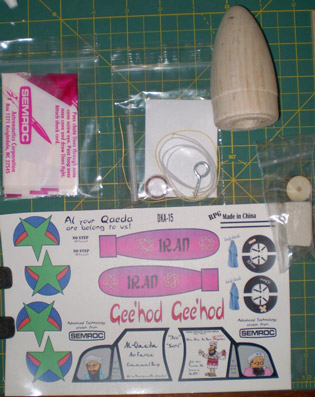 One caution I would mention is that if you end up sanding down the bomb balsa too much you will end up having to trim your bomb decals, same goes for the wheels and wheel decals. They are fairly close fitting so don't go to heavy with the sandpaper.
Construction Rating: 4 out of 5
Flight:
I've used only C6-5 motors in this rocket. It doesn't boost straight up. It boosts at an angle but it gets respectable altitude and I have had no trouble with any damage on recovery to this point. I have only flown this rocket on a grass field.
As with all short rockets where the chute rests near the engine you need to take special care to use enough recovery wadding to prevent damage to the chute, lines or shock cord.
Flight Rating: 4 out of 5
Summary:
I like rockets that are different and this one fits that bill perfectly. I also have found that I like Groonies as well so I expect to be adding to the Groonie fleet.
Overall Rating: 4 out of 5