Highly Unusual Plywood Construction and only $10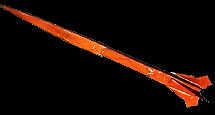 The Xanadune is made almost entirely out of plywood including the Body "Tube" of the rocket which in this case is rectangular with 4 sides.
It is laser cut for lots of cool detail and ease of assembly. I stained it to enhance the wood construction BUT the stain made the places where there is glue VERY visible. I am very much looking forward to flying this model.
This rocket is VERY cool here you see where the Nose "Cone" mates with the Main Body. The fit was very tight. I had to sand a little so it would eject properly. Note the intricate detail in the laser cutting of the wood. All pieces are interlocking to aid alignment and assembly. It will take up to C size regular engines.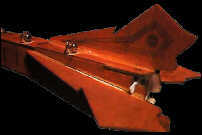 This is the Tail assembly. Notice the Fins are angled pretty aggressively, I assume this is for stability of the square design and potential problems if construction was not accurate. Here you also see the few non-wood parts of two eyelets for Lugs and a retainer ring to hold engine in place. The recovery system is Parachute.