Brief:
Aerotech's Reloadable Motor System (RMS) 24/40 motor kit. Allows for use with Aerotech motor reload kits, which in the long run saves you cash over using single use motors. Get the same high performance flights at about half the price of single use motors.
Construction:
The motor casing consists of one motor tube with a forward and an aft closure. The kit without the reloads consist of three metal pieces for the tube itself and a small tube of super lube thread lube.
The PROs are cheaper cost per flight as compared to equal size single use motors. A major CON is it's kind of expensive at first, as just the RMS motor system will run you around $40. After that though, it's just the cost of the reloads. My F12-5FJ reload kit cost me about $20 for a pack of three. If you don't mind taking the time to reload the tube at the site it's pretty handy.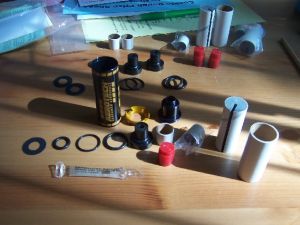 Flight:
The flight performance of the motor with my Aerotech Mustang was superb. It has an excellent slow ascent to about 650ft with a thick black plume of smoke and a loud crackling noise. It is a real crowd pleaser. It is easy to reload the tube and you get a little extra satisfaction of knowing that when it lights off that you put it together.
Recovery:
The only CON of the flight is that when it's over you have to reload the tube with a new reload. My first time reloading the tube in the field took me about 12 minutes. I know that after I went through about three or four reloads that I could easily get it done in half the time. It just takes a little getting used to.
Summary:
I recommend the RMS to anyone that is getting serious with rocketry and wants to add another chapter to their rocketry life story. It's cheaper than single use motors in the long run and there is a very large array of types of impulses to choose from. I speak from experience that the F12 is a very good size for an Aerotech Mustang size rocket.
Overall Rating: 5 out of 5