- by Moira Jean Whitlock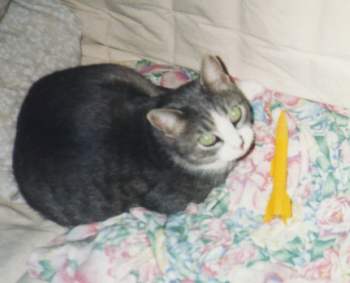 Description: Single staged 10.5mm motor (1/4 A through A in Apogee motors) rocket that is a minute scale model of the V2.
Pros and cons of construction: All parts specified were there and undamaged. I got the kit less than a week after I ordered it, and it was securely packed in styrofoam popcorn in a strong postal box. The nose cone is solid lightweight balsa wood. The tail cone is also balsa, with a 10.5mm bore predrilled to accept the 10.5mm motor tube. The body tube and motor tube are spiral wound paper. The launch lug is plastic and is for 1/8 inch rods. The streamer is 17 inches of 1 inch wide plastic. The fins are die cut balsa.
Instructions are clear, illustrated and logical. You also get a historical essay on the original V2, and how its capture from the Germans helped our space program.
Assembly was easy and quick. You do have to align the 4 fins, but that's not hard. The shock cord is thin Kevlar®-like string of 20 inches in length. It fits into a plastic bead that glues into the hole predrilled into the base of the nose cone. Me, I prefer screw-eyes, but this seemed to work fine. Also, if you've seen my other reviews, then you know that I have a thing for stretchy shock cords, too. But this one worked without a hitch. I attached it into the forward centering ring in the motor mount. White glue was used for assembly, but epoxy was used to glass up the fins and make them durable. It was also used to glass and smoothen the nose cone. Yellow spray paint was used as a primer. I was about to apply green, when my cat, Freeway, grabbed the rocket and ran with it. I decided, after finding it again, to fly it as is.
Pros and cons of finishing: A simple paint job is enough. I chose to glass the fins out of personal preference. It's also a habit from high power rocketry. A green camouflage paint job will be applied this week, even though my cat likes it yellow. Maybe green will make me lose it! At least yellow is easy to find.
Rating for construction and finishing: 4 out of 5
Pros and cons about flight: Apogee recommends their 1/4 A through A line, namely the 1/4A2-2 or 4, 1/2A2-2 or 4 and the A2-3 or 5 . The shorter delays are recommended if it's breezy. Me, I used an A2-5, as it was a still day the likes of which only Phoenix can achieve. The prep time was just seconds. A pinch of worm bed wadding and masking tape to retain the motor and it was ready. And the Apogee igniters fit right into the motor. The flight was fast. A FWIT sound and it was gone, high and straight. Good thing it was yellow or else I'd have lost it for sure. I luckily saw the streamer. Maybe an itsy bitsy parachute would increase hang time and help me find it next time. Knowing my luck, though, I'll catch a thermal.
Pros and cons about recovery: (17" streamer) It was easy to assemble. It worked just fine, without any damage or burning to the rocket.
Rating of flight and recovery: 4 out of 5
Anything this kit taught me: Keep your kits away from your pets. More seriously, I learned about the history of the real V2. I enjoyed that.