Brief
My Quest Area 51 Saucer came as a throw in with a rocketry lot I bought off of Ebay, much of which proved to be cleverly disguised junk. But, I paid more in shipping than I did on the auction. I initially threw the saucer aside as it was covered with dust and spider webs and missing two of the three landing legs. After my initial disappointment, I gave the saucer a second look. The legs were located in the box and I began looking for ways to reattach them, something that turned out to be a lot easier than it initially looked. In the end, the rocket I had discarded as junk turned out to be the jewel of the Ebay lot.
Components
UFO body
3 legs
Fugly stickers
Construction
Pros: Ease of reassembly. Function. Form.
Cons: Cheap plastic won't last forever. The tabs that hold the wire landing legs in place are already breaking off.
Gotchas: None
Finishing
I guess one could paint the UFO as I've seen one that was done in red and looked pretty good, but the native grey works just as well. I've seen several different sticker sets, but mine just happened to be the ugliest I've seen. I didn't apply them, so I can't have much of an opinion as to how they go on, but they seem to hold well. Mine are, (unfortunately,) staying in place.
Construction Score: 4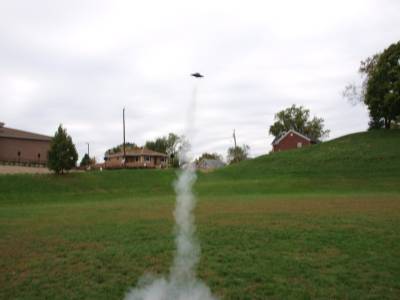 Flight
I tossed this in the box one day last fall when I was supposed to be flying with a friend on his low-level field. We arrived to find baseball games in full swing despite the wind and cold, so we drove back over to B6-4 Field despite his initial misgivings. For the first flight I loaded the UFO with an A8-3.
Yeah, you read it right, an A8-3.

When I was a kid, the neighbors had a little contraption that let you load a ball into it and step on a pedal to toss the ball straight up about 8 feet. It was just enough time to get the oversized bat cocked and ready to wallop the ball into the next county. This flight reminded me a lot of that one, but I'd left the oversized bat at home. The UFO cleared the rod with some difficulty and flopped to the ground where the ejection charge fired after a second or two. Lots of smoke and flame, and best of all, I got the whole flight on camera without having to move.
Flight number two was as soon as I could find a C6-3 in my motor stash. I read that it was possible to hit 600' with the UFO, but that would have had to have been fired from a cannon. The C6-3 flight left the pad with authority and topped out at maybe 150', certainly short of 200'. Perfect for B6-4 Field, but likely a disappointment to anyone thinking 600'. Someone mentioned in another review about using a single use Aerotech D, but I think the Hibachi effect would spell the end of this bird. The little heat generated by my flights is warping things.
Recovery
Landing was as described, rocket turned over soon after burnout, dropped to the ground upside down and landed on the legs. No dog barf. No streamer. No chute. I could get used to this.
Flight Rating: 5
Summary
Pros: Almost disposable fun. This will be a big hit when kids are around to watch. Fairly sturdy landing gear.
Cons: Plastic is brittle and melts easily.
Overall Rating: 4