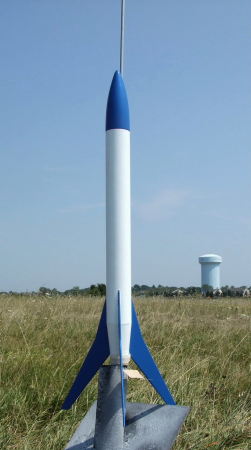 Brief:
Balsa Machining Service began offering a Clone of the Month kit in the spring of 2008. Under this program, an old classic kit would be offered in bag-of-parts format (no instructions), minus any chute or streamer, and pre-order only. By accumulating all the orders, Bill could run a single large batch, have little or no leftover materials, and make this a very affordable offering--kits typically in the $7-8 range. Well, the program has been quite popular although not as regular as monthly. To date (August 2008) there have been only 3 kits offered--the FSI Viking, the Astron Invader, and this: the Astron Drifter. The Drifter features long, swept fins and a tapered boat tail. It was featured in the 1966 catalog as a competition model using either 12" or 24" chutes. Don't pack a 24" in this if you ever want it back. The cover art changed a number of times over the years, getting progressively simpler from the original checkered roll pattern.
Construction:
Your bag o' parts includes:
BT-50 body tube 7.75" long
BNC50K balsa nose cone
18mm engine tube, centering rings, coupler
1/8" x 24" elastic shock cord
Laser cut balsa fins
1/8" launch lug
pattern set for shroud, fin, tube marking guide
Instructions are not included with this kit although scans of the original are available on the JimZ archive site.
Assembly of the motor mount is a little off the beaten path. I had to bond centering rings to either end of a TC-50 tube coupler then slide the motor tube into the TC-50/ring assembly. Spacing is critical here as there needs to be appropriate room (~1.5") for the boat tail.
The boat tail is formed from a paper shroud pattern. I felt this was a bit flimsy, especially since it serves as part of the fin attachment point, so I soaked it in thin CA. The boat tail then slides onto the BT-20 motor tube and rests against the TC-50 coupler. The boat tail assembly can then be mounted inside the body tube. Careful alignment is in order--if you line up the boat tail seam with one of the three fin lines, then it gets completely covered, meaning no unsightly seam to fill.
Fins are precut, which is a very nice benefit considering the tapered root edge necessary to conform to the boat tail. In my case, there were very slight gaps, which were easily filled through the fillet process.
Shock cord attachment is standard paper tri-fold.
Finishing:
I went with one of the simpler paint schemes, circa 1977, which features base white with blue nose and fins. Nothing special about the finish, just the usual two coats primer, two coats base, one coat of trim, Krylon rattle cans the whole way.
Construction Rating: 5 out of 5
Flight:
As skinny and light as this is, I was afraid to shoot for much more than the A8-3 starter, wanting a relatively short recovery walk. This thing was amazingly fast on the way up although it spun a good bit with some obvious fin flutter.
The -3 delay was clearly a bit too early, as it was still climbing when the chute deployed.
I followed up with a second flight, also on A8-3, and the fin flutter was severe enough to break off a small piece from the end of one fin (clearly not impact damage, as there was no trace of it anywhere nearby in the short grass landing area). It definitely needs a -5 instead of a -3...
Recovery:
I had supplied a 12" chute form my range box, and this is plenty of chute for this model. Slow descent, gentle landing. It could probably do well on a streamer as well, though with such fragile fins this might not be wise.
Flight Rating: 3 out of 5
Summary:
I love the styling of this and think it's a fantastic value as a clone kit. The only drawback I can see is the clearly weak fins, which cause flutter and roll and are prone to breaking. I would definitely suggest reinforcing either trough laminating. I really wish I had a do-over on this one, as I'd fly the bejeebers out of it if it could handle it. As it is, this is fragile enough that with frequent repairs I will probably not fly it very often.
Overall Rating: 4 out of 5