(
Contributed
- by Michael Verbeek - 07/01/02)
Picture Courtesy of Binder Designs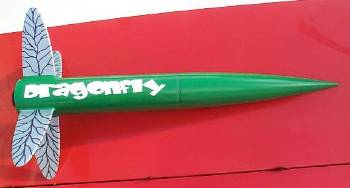 Brief:
Single stage with four fins placed not at 90 degrees to each other - to mimic a dragon fly
Construction:
The kit consisted of (1) paper body tube slotted for fin placement, a nose cone, plywood centering rings and pre-cut plywood fins (fins are mounted to the motor mount), a 29mm paper tube motor mount, a fin alignment guide, the Dragonfly decals and CP, CG decals.
Easy to build, good instructions, went together well, tube slots needed to be slightly worked on to get the fins to fit. no special tools required
Finishing:
The rocket was finished as shown in Binders photos, very easy to complete the decals applied easily
Construction Rating: 5 out of 5
Flight:
Has been launched once on an E16-4, on a windy day. It weathercocked badly due to the large fins, but flew well, it was prepared with an Aerotech RMS 40/120 casing retained by Aeropack retention systems.
Recovery:
Recovery was with out incident, no problems.
Flight Rating: 4 out of 5
Summary:
This is a very unique rocket to own, but because of the size of the fins, it is best to fly this on only calm days.
Overall Rating: 4 out of 5