Brief:
The Flechette 60P is a new rocket from BoRocks!, a new rocket company. The 60P is a limited edition kit that has become so popular that it was already re-released as a non-limited edition kit. The newer ones are not signed and not numbered. The 60P also distinguishes itself from the 60 as the 60P is set up for 24mm motors and the 60 is set up for 18mm motors.
Construction:
The parts list:
Plastic Nose cone
Metal Eye hook
Kevlar® and Elastic shock cord
Barrel swivel
18 inch Mylar Starlight Chute
FlisKits Baffle
BT-60 body tube
Balsa Fin Stock
Balsa Strakes
Long 24mm Stuffer tube
Centering rings
Metal engine hook
This kit is in the tradition of a builder's kit, it requires fin cutting from balsa stock, modification to the strake stock, and assumes that you know a bit about construction. I found the directions to be adequate but with all new things, they are a bit rough around the edges. [Note: newer kits are bagged, have hang tags, and the instructions are more complete.]
All the components are first quality. The balsa stock is nicely grained, more than adequate for the needed number of fins plus enough for an extra one if you make a mistake. The body tube has very small seams and sands up easily. As well it primes up nicely and takes paint well. Centering rings were very precise as were all the components for the motor assembly.
Another interesting feature of this kit, there are no color guides or decals. At first I thought this was a detriment but working with the kit, it allowed me to be a bit more creative (or at least not have to try and live up to some hang tag image).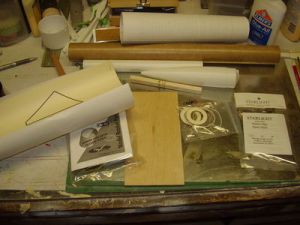 Some downsides: It seems to me the strakes are a bit small for the fins. If you cut the fins and sand them a little too much, the strakes will sort of "stair step" when they match up with the fins. Be very precise with the fin cutting and sanding and you will not have this problem. The nose cone does not take paint very well, no matter how much you clean it, sand it, or prime it. I'm not exactly sure why but I ordered subsequent kits with balsa nose cones and have been very happy.
An interesting component of the 60P is that it has a FlisKits baffle. The baffle parts are top notch but I find the small diameter and the need to glue three offset baffles into a small 23mm tube a bit tedious. If anything, I think a change to a Nomex® protector or a much simpler baffle system might make this kit a bit better. The recovery system is based on a Starlight 18 inch Mylar chute with Kevlar® and elastic shock cord. An added bonus is that the kit does include a barrel swivel, simple to include but often lacking in many kits.
Construction Rating: 4 out of 5
Flight:
Prepping the rocket was very simple, no wadding needed, so just fold the chute, test it for fit and you are almost done. I found that once loaded with the engine and chute, the nose cone was a little lose on a shake test so I added a little tape to the base of the nose cone for a better friction fit.
I used a D12-5 for my initial flight on a fairly windy day. The rocket flew very straight and really leapt off the pad. Everyone watching was pretty impressed with the flight as it got pretty high fairly fast and looked good doing it.
Recovery:
The downside to the recovery was that I lost it after the first flight! (That's basically my luck as I lost three rockets that day). Subsequent builds of the same model have given equally impressive flights. My only suggestion is that a smaller chute or a chute with a spill hole might do well on this kit. For its size, it is not very heavy and seemed to drift quite a ways.
Flight Rating: 4 out of 5
Summary:
I really liked this kit, so much so I bought a couple more. At $19.75 for the kit with the baffle and $17.75 for the one without, this kit is a steal!. With all new things there are some growing pains and I chalk up any of the issues with the kit or instructions to just that. It is pretty exciting to see these kits come out, they are fun to build, well thought out, and a good bit more interesting than the standard 3FNC?s that I normally see at the hobby shops. A significant side benefit is that the owner routinely posts on TRF and is very open to ideas and works very closely with the rocketry community in getting products to market.
Overall Rating: 4 out of 5