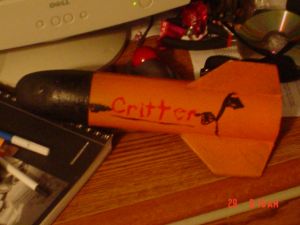 Brief:
This is basically a modified Fat Boy for 24mm engines with a 18in parachute. It can fly straight, but requires testing and at least 1 ounce of nose weight.
Construction:
This kit comes with about a 9 inch BT-80. This kit uses a 2 inch, 3/16ths inch launch lug. It has a balsa nose cone with a eyelet required and a need to add 1 ounce of nose weight. The fins are balsa and require you to trace a pattern on a sheet of 1/8th in balsa. The engine mount is for a D engine and has an eyelet you need to screw into the top centering ring for the shock cord system. This kit uses snap swivels to swap the nose and parachute that is 18in mylar.
Construction of the kit is pretty simple. The only problem I had was the fact that you have to screw in an eyelet into a cardboard centering ring that is a real pain.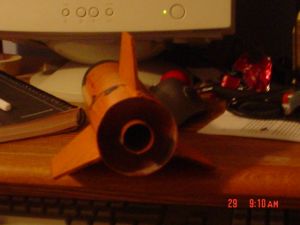 Finishing:
There are no decals or suggested color scheme. You are completely able to express yourself in painting it. In the instructions it talks of a contest for best finish coming up. Just the same as finishing any balsa nose cone rocket.
Construction Rating: 4 out of 5
Flight:
My only flight so far has been great and horrible. The rocket started to make a land shark and passed 400ft or so over my head then it straightened out and pulled into a perfect flight.
Recovery:
I replaced the mylar with a Hartle engineering chute. The ejection charge blew a few seconds after Apogee. Then that big beautiful yellow chute blew up and it gracefully touched down in the ground.
Flight Rating: 4 out of 5
Summary:
Testing is still needed on my rocket. I just performed a swing test and was able to add weight to the back to even it out. I will fly it again in a week. The main problem is that it is going to be annoying to mod it for an E engine.
Overall Rating: 4 out of 5