And now ... because I forgot to take more photos ... here is the completed cabinet.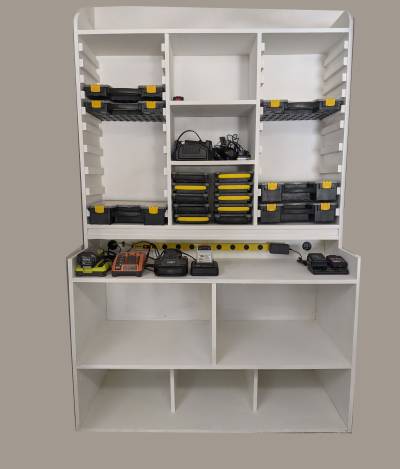 What you missed:
You didn't get to see me mess up. I had intended to work from the bottom up, but I had attached the rails to the inside vertical pieces before I got to that point and the measurement was wrong. So, I had to add an extra shelf a couple of inches above the shelf over the charging area. Coincidentally, a 1x2" board fit perfectly in the space to cover up the slot.
And, you missed seeing me maneuver this monstrosity into place in the corner of my garage. I used levers to tilt it up onto a furniture mover. That actually worked well and I was able to easily move it into the corner. Then the trick was to remove the furniture mover. I finally accomplished that feat with more levers and a little help from a hydraulic jack.