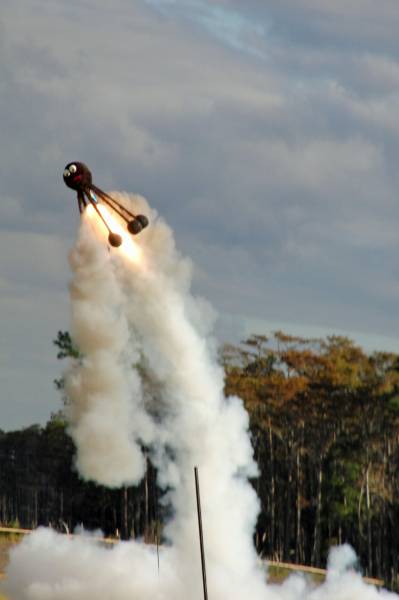 The Big Daddy Akavish is one of a series of spider-like rockets which my wife, Bracha, and I have built and flown. It all started some years ago when the Spacecoast Rocketry Association had a "aniimal themed rocket" competition at one of their launches. Bracha uses a variation of the song "Itsy Bitsy Spider" to teach children a few words of Hebrew. She substitutes a Hebrew word for some of the English words - such as "akavish" for "spider." So, it occured to me for us to build a spider-like rocket for the contest.
The first Akavish was a small, D-engine powered rocket with crooked legs acting as fins. We took too long building the rocket, so it was not available for entry into the SRA contest. Instead, it first flew at a NEFAR launch. It whipped off the launch, did two loops, then crashed into the ground. After that, we reinvented the Akavish as a Sputnik-like rocket.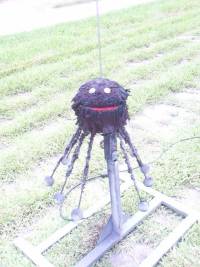 This Akavish stood about 18" tall and flew well on G motors. We built two more Akavishes of the same size (which looked much better than the one pictured above!) before creating the almost four-foot tall Big Daddy Akavish.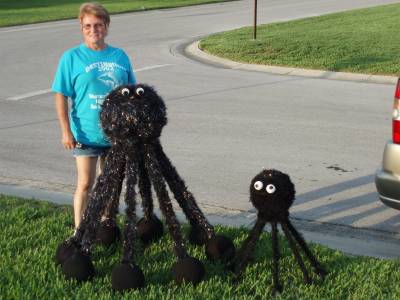 The Big Daddy Akavish has flown many times at NEFAR and TTRA launches. It's even appeared in a national TV program.
Last November, our launch of the Big Daddy Akavish went astray when a hole opened up in the side of the Aerotech motor. Hopping back on the horse, we launched the Akavish in March on a CTI motor and ... the motor came apart resulting in a rather hard landing for the furry rocket.
Since a spider-themed rocket should have eight legs, not three, we decided a rebuild was in order.
We decided to make the new Big Daddy Akavish a little bigger.