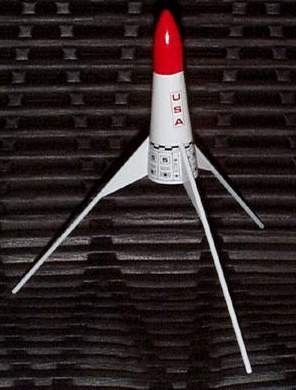 Brief
The Custom Galileo Probe is a small scale-looking rocket. It uses the 18mm 1/2A engines and is a great flier. It comes down on its nose cone unharmed every time. It is a cool looking and fun rocket.
Construction
The kit is a pretty simple one, packaged in a bag with all the pieces intact. It comes with a small length of BT-20, 3 balsa fins and dowels, a paper shroud pattern, a balsa nose cone, and a launch lug and stand-off. Construction goes smoothly and is fairly simple because the tapered shroud is already marked for fins. The instructions are very basic, but a beginner could follow them.
Finishing
The balsa parts need to be finished for a good look and I recommend a coat of primer. I painted mine like the box cover, all white with a red NC. That was pretty simple with some masking tape. The decals that come with it are good quality and go on easy. The finished rocket looks very cool.
Construction Rating: 4 out of 5
Flight
For flight, I used the recommends 18mm 1/2A6-2. It was a nice stable flight and a good ejection. The only problem was that when the engine was coasting, the rocket started to tilt. Then, when the engine ejected, it blasted the rocket in the other direction. Luckily, it didn't go far and landed softly. It's flown five times and is now one of my favorite rockets.
Recovery
Recovery is uneventful..............if it lands on grass! Mine landed on a row of rocks once and had a lot of damage. The nose cone was dented and two fins broke off. Luckily, it's a simple rocket and was easily repaired.
Flight Rating: 4 out of 5
Summary
If you like small rockets or scale rockets, you should get one of these. Just throw it together before a launch and see how you like it.
This kit is a good build up to a scale rocket because it uses some scale techniques.
Overall Rating: 4 out of 5