Brief:
Single stage futuristic rocket.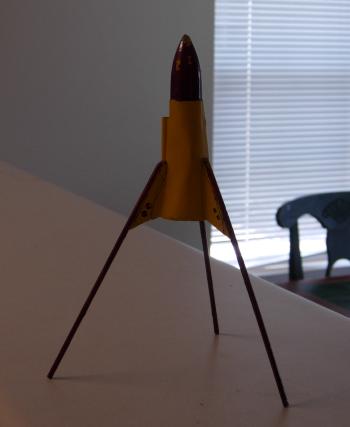 Construction:
This rocket comes with one short body tube that is just slightly longer than an 18mm engine. It primarily uses 1/8" diameter wooden dowels for fins. I say this due to the fact that you use small balsa pieces for the dowels to lay down on. They would be to small to act as fins however. The rocket comes with a balsa nose cone.
This is a fairly easy build. Due to the smallness of it cutting the balsa pieces that the dowels lay on, it can be a bit tricky. If you take your time you will be fine. The hardest part about this rocket is that you have a cardboard ring that goes on the outside of the body tube, which lines up with the bottom. This is so you can roll it around the main body, which is a paper shroud around the body to get the symmetrical shape. I must have held the shroud together for nearly an hour to ensure I had the proper fit (make sure there is a good TV show on), as I wanted to ensure it didn't bind up. I used Elmer's but should had used carpenters glue as I wouldn't of had to hold it as long. It came out looking fine though. Instructions are pretty straightforward. You also have to drill a 1/4 inch hole near the top of the body tube to allow the ejection gases to release. If there was a "gotcha", this is it. Make sure the nose cone is not going to cover the hole. Mine did and I had to remove the cone and cut some of the excess off. I would had liked more illustrations in the instructions too.
Finishing:
Since it is such a small rocket, it is easy to paint. I decided to paint mine mostly yellow as I wanted a brighter color to make it easier to find. It came out looking rather well. The decals are small and due to this are hard to place, but if you have put on several decals on other rockets, then you should be fine.
Construction Rating: 4 out of 5
Flight:
Only recommended motor I had was the A8-3. I prepped it and put the motor to the edge of the body tube. Rocket took off the rod fine but about 20 feet up took a hard left and flew at about a 60 degree angle. Then at ejection it sounded like a pow and when I recovered the rocket I saw why. It blew one wood dowel with the fin completely off. All parts recovered. I fixed it back up and flew it again several days later on an A8-3 and the same thing happened except this time every wood dowel blew off and two of the fins. Since the rocket didn't go very high I was able to salvage all the parts. Once again I put it back together no problem, but if I fly it again, it will with a 1/2A. For now it's just a display model.
Recovery:
Recovery is supposed to be tumble but as you can read above I had no such luck. Let's call it the explosion recovery!
Flight Rating: 2 out of 5
Summary:
Not sure about the stabilization of factory issued rocket. Might need some nose weight. I might try gluing a small washer to the base of the nose cone. Of course it might fly fine with a 1/2A as the lift off will be slower.
Overall Rating: 3 out of 5