Brief:
Two-stage, 12" parachute, missile-like styling. Skill level two.
Construction:
The kits components include:
Sustainer:

One body tube 9" long x 0.976 Dia.
One motor tube (for 18mm motor) 2.75" long
Two centering rings
Four die-cut balsa fins and eight decorative fins
Estes-type (approx. 12" 1/8" elastic, and three fold paper mount) parachute attachment

Plastic nose cone
Booster:

One body tube 2.75" long x 0.976 Dia
Centered inside another body tube 2.5" long x 1.325" Dia. with two centering rings
One motor tube (for 18mm motor) 2.75" long
Two centering rings
Four die-cut balsa fins
One tube coupler
A 1.5" .125" Dia. launch lug.
Instructions: Very easy to follow. Illustrations: Simple and clear. Assembly Order: Logical and straight forward. Templates: N/A. Very easy to construct, no "gotchas". Every thing fit together very nice, and the model as a whole is very sturdy. Special Tools: N/A. The kit and supplies came from Hobbytown U.S.A. Redmond, WA.
Finishing:
No special requirements for finishing. There were no instructions regarding decal placement, although there is included "Launch Instructions" that briefly describe sanding sealer, how to apply water slide decals, and prepping the model for flight. I think the model looks great when finished. The decals really add that "finished look".
Construction Rating: 4 out of 5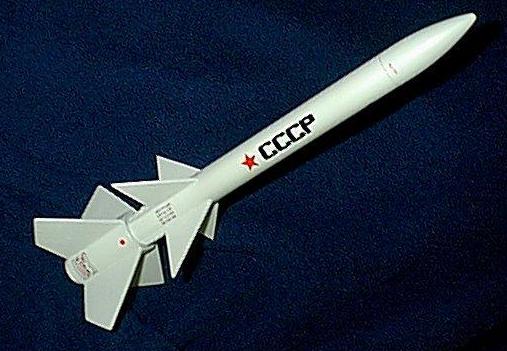 Flight:
The PROs and CONs of flight: The only con is the motor retention is cheap and dirty. If you don't get the right amount of paper tape on the motor, well...you know the recovery system will not deploy...and the model might end up in the brambles. Good thing the model is sturdy, not a scratch. I have flown the model only on B6-0 and B6-6, due to the size of the field, and the amount of use by R/C glider enthusiast. The model flies straight, uses wadding and besides the taping together of the engines the prep is straight forward.
Recovery:
The shock cord is the three-fold-paper mount and some white glue inside the body tube. Pretty easy construction, the recovery was just like it should be, fast enough to keep the model in the field.
Flight Rating: 4 out of 5
Summary:
I like the Custom Rocket Kits. The models are robust and fly great. The models themselves look great with paint and decals. The only CON I have is the staging.
Overall Rating: 4 out of 5