Brief:
This is the latest offering from Dr. Zooch, a semi-scale version of the manned Russian spacecraft, Soyuz. It is powered by a single 18mm motor and comes down with parachute recovery. This model does require some patience and skill--it is not a beginner's kit. I'd rate this at a 3-4 skill level.
Construction:
All parts included in the kit are good quality and include:
1 T-20 core tube
1 T-50 tube
2 centering rings
1 pre-ballasted balsa spacecraft adapter
1 balsa nose cone
1 SAS kit bag(includes dowel, small tube, and wooden nozzles)
1 screw eye
1 engine hook
1 launch lug
1 CR205W engine block ring
1 snap swivel
2 thin dowel stock
1 sheet balsa stock
1 larger dowel (to aid with rolling booster tanks)
1 cardstock wrap sheets and templates
1 small piece of Kevlar
1 length of recovery elastic
1 plastic chute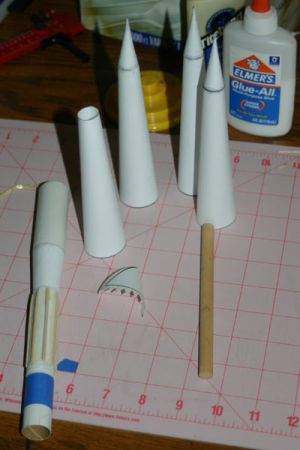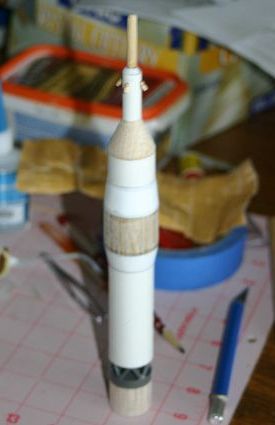 I was asked by Dr. Zooch to do a beta build of the kit. I hit several snags on the initial build, mostly some measurement discrepancies in the instructions and some proof reading suggestions. He and I hammered those out between emails. And now, I trust, that things will go smoothly for anyone attempting this kit. That's the point of beta testing...to iron out the kinks, right?
Some paper modeling skills are a good thing to have for this build. The booster tanks need to be rolled and glued, all four of them. The kit will provide a dowel to aid in this process. I started using the dowel but ended up using a spare BT-20 I had laying around when it was all said and done. I ended up having less wrinkles in the paper using the BT.
You'll need a razor saw for this build. There is a balsa spacecraft adapter that needs to be measured and cut into 3 pieces. 2 pieces get used as bulkheads and the largest piece is part of the SAS spacecraft. It's easy job with the right tool.
The interstage is made by cutting dowels to length and trimming. A clever sleeve is provided to help with alignment. Be careful here so as not to glue the dowels to the alignment sleeve.
Some neat little wooden nozzle thingies are provided for the SAS tower. Use some tweezers and don't drink any coffee before hand as you'll need a steady hand for placement.
You'll need to cut some balsa circle plugs for the bottom of the booster tanks. I cheated and used some sticker paper adhered to one side of the provided balsa sheet. This made it so I didn't have to fill the wood. It also helps keep a clean edge on the balsa while it's being cut. I also used my Hobbico circle cutter to make the cuts and it worked like a dream.
There are 16 (tiny) engine bells that need to be cut and formed from the provide cardstock patterns. This is time consuming but not difficult. I suggest using tweezers to hold and clamp the engine shrouds for several seconds while the glue sets assuming you're using white glue.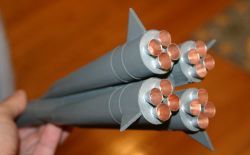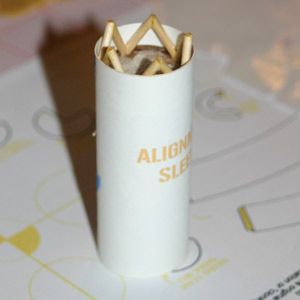 Because this was a beta, one of the snags I ran into was regarding the templates for the stabilizing "flaps" on the spacecraft. They were were accidentally left off the template sheet. I fabricated some from matte board, which in hindsight, I made too large for the size of the model.
Finishing:
Finishing takes a little time depending on how much scale detail you want to add. I used three different spray can colors on mine. The main booster section was sprayed the Testor's Euro Grey. I was very pleased with the way that color looked on the model, a very convincing and accurate color for this. The upper section and space craft was masked and sprayed with Krylon Gloss White and Testor's Competition Orange. Engine bells were hand painted with Testor's Silver on the outside and Testor's Copper on the inside.
The paint scheme is really makes this thing come to life. I would have enjoyed seeing some decals for the spacecraft, but on this small of scale they are hardly missed.
Construction Rating: 4 out of 5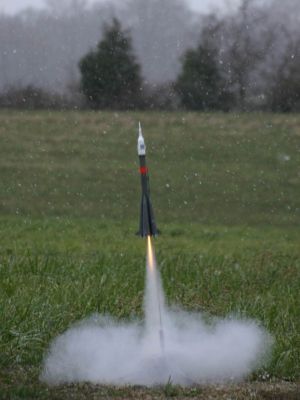 Flight:
Dr. Zooch recommends a B6-4 or C6-5 for this model. He generally makes sarcastic remarks about using A motors in most his kit instructions, stating that, "A's are for wimps". It's the typical humor you'll see from him. With some of his kits, there is more truth than humor to that, but this one could probably handle an A8-3 for a small field, I presume since it only weighs 2.2oz. I haven't tried it and hasn't been "officially" recommended so do so with the appropriate precaution.
I chose a B6 for the first and second flights. I think it's the best choice for this on small to medium sized fields, reaching heights to about 500ft or so. The 4 second delay is just about right too. First recovery attempt wasn't good, but the flight profile was fine. Due to the cold, the chute stuck together and never opened. I knew I should have dusted the chute with talc, but I didn't out of laziness. The rocket "tumble" recovered and suffered no damage at all.
The second flight was much better. Dusted the chute this time, and the flight was perfect. My wife even managed to get a shot of it while it was snowing, which provided some extra some extra scale realism!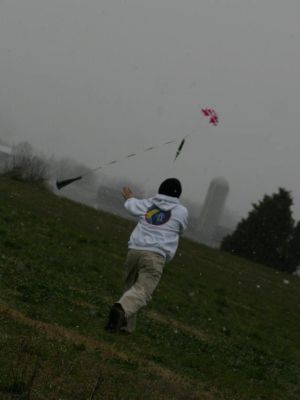 Recovery:
The screw eye pulled itself from the balsa adapter on a subsequent flight and came down in two separate pieces. Only very minor damage to one of the fins. It's since been repaired and ready for flight. I did use some CA to secure the screw eye on the initial build but maybe not enough. I used a couple drops of epoxy to secure and repair it now, and I don't think the screw eye is going anywhere.
Packing the chute and shock cord is a real challenge. There isn't much room for the recovery components, however, with some careful planning and patience it can be done.
The kit comes with a dowel to aid with rolling the booster tanks. Save the dowel and put it in your flight box! It comes in handy when time to pack the Soyuz. The dowel will help you push wadding down into the core tube and feed the shock cord into the core tube as well. This should leave you just enough room for the chute in the larger, remaining section of tube. Dust the chute and roll it tightly so it will fit. It will fit but just takes a little extra care is all.
Flight Rating: 4 out of 5
Summary:
PROs: Scale model. Quality parts. Nice flight profile.
CONs: Difficult flight prep.
Overall Rating: 4 out of 5