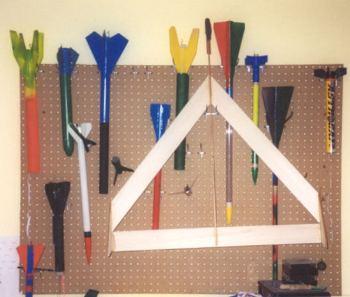 Brief:
This is a HUGE glider made by Edmonds Aerospace. It has a wingspan of 27 inches and the glider is 34 inches long. It has a 24mm pop pod, which is about 2 feet long, give or take an inch or two.
Construction:
It has one long 24mm tube for the pop pod, and 3 sheets of laser-cut balsa, which I am guessing is about 1/4 inch thick.
Just as easy to build as the original Deltie, but really big. I liked how all the parts fit together. I did not need instructions since I had build the standard Deltie a few weeks earlier and it has the same exact parts, only bigger. Once assembled it is very sturdy. I have gone for a few test glides at a baseball field and it flew very well.
Finishing:
I have not painted it, but may use highlighters like I did on the Deltie.
Construction Rating: 5 out of 5
Flight:
I used a D12-3. Definitely not enough power. Due to the wind, I had to use the "David Smith hold and RUN" technique. That means holding the glider until the wind dies down, and then let go and RUN while a friend presses the button. The boom broke in half on impact. Pout! Will be easy to repair, however.
Recovery:
I do not know yet. I have only made a few throws in a local baseball field so far.
Flight Rating: 4 out of 5
Summary:
Easy build, affordable price, and a really big glider. it takes up about half of one of my bedroom walls!
Overall Rating: 4 out of 5