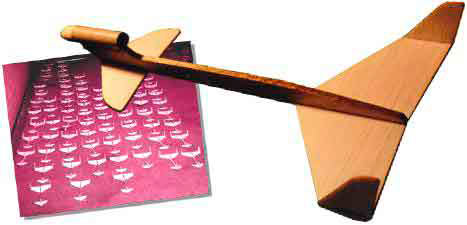 Brief:
This is a low power, 13mm motor mounted rocket glider.
I have had uniformly bad luck with every glider I have attempted. For the most part, the just crash. In one case it crashed and burned. In the case of the Cosmos Mariner, I just kind of lost heart and it has sat partially assembled for over a year. I have, however, heard good things about Edmond's Aerospace and decided to give it another try. I had several of their kits sitting around and decided to start small. Assuming I actually get it to glde, I wouldn't want to damage my reputation by walking very far.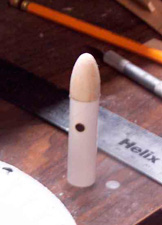 Construction:
The kit comes with a single instruction page which is more illustration than anything else. If the instructions are any guide, it should go together very quickly.
Along with the instruction was a short 13mm motor tube with an ejection port already cut, a blasa nose cone, a balsa body, a sheet of balsa with die cut cannards and an 1/8" launch lug.
I started off by gluing the nose cone into the motor tube. The illustration makes clear that the cone goes on the end with the vent hole.
With that done, the motor tube was glued to the body. The instructions do include text to say that it is important that the motor tube be straight.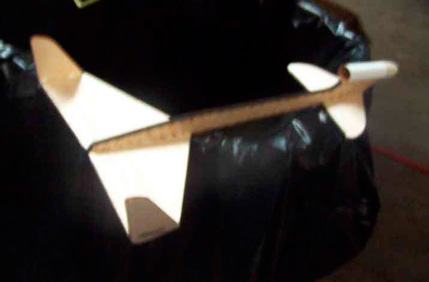 Next up was the forward cannard. I test fitted it and found that the match was fine. I glued it in place and tried to ensure that it was straight and plumb. The after cannard, the larger of the two, was handled in the same way. Then it was just a matter of gluing on the vertical stabilizers to the after cannard and the launch lug to the motor tube.
The package claimed that assembly would take less than an hour. It took me more time to write this up, about 10 minutes.
PROs: very easy glider build
CONs: could use a bit more advice about trimming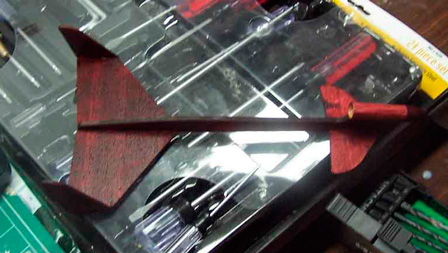 Finishing:
I know that it is not considered necessary to put a finish on gliders. Still, I never liked the looks of naked rockets and wanted to do something. One suggestion I got was to use Rit
®
dye thinned with denatured alcohol. I decided to give this a try.
I was unsure of the proportions but used approximately a 50:50 mixture and brushed it on with a sponge brush. I probably should have cut it a little more.
Construction Rating: 4 out of 5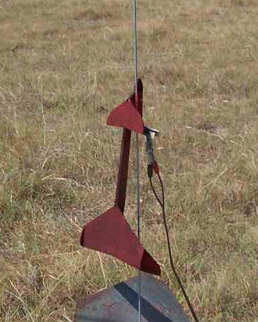 Flight:
I only got one flight out of the initial outing. I used a 1/2A3-2 and had to put just a touch of masking tape on it to keep it from falling out. It was not "friction retention" except in the sense that I wanted to retain the motor until ignition.
Right after clearing the rod, it veered over at an angle. I would guess that it made about a 40 degree angle with the ground. It popped the motor. It then began a very wide glide that was not a circle. It was more in the shape of an eccentric ellipse. When it was about 10 feet above the ground, the nose suddenly dropped and the rest of the glider followed. There was no damage.
Flight Rating: 3 out of 5
Summary:
This is the first glider I have even come close to making work properly. It is an easy kit and a good introduction to boost gliders. I need to give it some more thought and practice trimming but I am satisfied.
Overall Rating: 4 out of 5