(
Contributed
- by Kevin Johnson)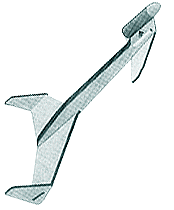 Brief:
13mm canard boost glider.
Construction:
The kit includes: 5 laser cut balsa parts, 1 balsa nose cone, 1 13mm motor pod tube, and 1 launch lug.
I ordered my kit from DiscountRocketry and it came bagged with all the parts and 1 8x11 inch sheet of instructions. There was a crack in my wing, but it didn't go all the way through and was easily fixed with a little glue before construction started.
The instruction sheet was clear and the illustrations were easy to read and showed where all the pieces fit together. All you need to build this kit is a tube of white glue. This kit is geared to be a "first" boost glide model and would be a great project for young hobbyists to complete with their parents. The typical Edmonds interlocking design makes for a quick and accurate building experience.
Finishing:
The kit didn't come with any decals, and the finished glider looks great in the bare balsa. I did color mine using magic markers to make it easier to track in the sky. I got joshed a little for using green and yellow though.. nothing like hunting for a grass-colored rocket!
Construction Rating: 5 out of 5
Flight:
There isn't any mention of glide testing the TINEE in the instructions. I found, like its bigger brothers, this model tracked straight and true when built following the directions. Prepping this kit is easy since the ejection charge spits the spent casing out of the pod. Just be careful if you fly from a dry range, and call "heads up".
My first flight was on a 1/2A3-2T and was a partial success. After a nice straight boost the ejection charge went off and broke the fuselage right behind the canards. I found all the parts and took it home for some repair work. I'd probably recommend coating the body just behind the canards with thin CA for added strength before your first flight, which is what I did to repair the damage sustained.
On the second flight, again with a 1/2A3-2T, everything went as just as you'd expect. Another good boost and after ejection a quick half-loop into a nice flat glide.
Recovery:
The TINEE doesn't have a lot of wing area so I don't think you'd be likely to see it fly over the horizon, never to be seen again. That said, the glides are really nice, and for a young flyer seeing something they built actually work well will make this kit one of their favorites.
Flight Rating: 4 out of 5
Summary:
I can't think of any cons for this kit. The ease of assembly and quality laser cut components are typical of Edmonds product. If you have a junior rocketeer that wants to build something more than a 3FNC, or have never built a boost glider before, the TINEE should be your first choice.
Overall Rating: 4 out of 5