Brief: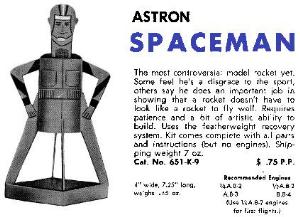 This is a Clone of this OOP kit. We call it the Rocket Boy, I would consider this a level 3 kit since you have to cut out all your balsa pieces, We where looking for something different and found this plan on JimZ website
Construction:
The kit called for the following parts:
body Tube BT-60J
Engine holder tube BT-20J
Launch Lug LL-1b
Balsa stock BFS-20
Pattern Sheet SP-1
Nose Cone (Head) BNC-20P, we used a 1 1/2" wooden ball for this instead
The instructions where very easy to follow with quite a few pictures.
First thing the instructions had you do was to trace all the patterns on the balsa stock.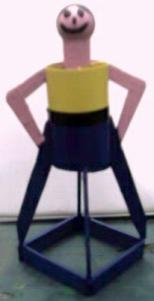 After you had that done then you cut the pieces out and started the assembly of the rocket. The motor tube with the 4 pieces of balsa on it went together very quickly. After that was done you glued the motor tube into the bt-60 tube.
The next thing you did was to glue the 2 legs onto the body tube.
Then came the only tricky part of the whole assembly, gluing the body with the legs on it to the square base of the rocket and adding the 2 supports.
Finishing:
This was easy to finish we just went with the same colors that where in the plans.
Construction Rating: 3 out of 5
Flight:
First flight was on a C6-3 only because at the time we only had 1 A engine and it wouldn't ignite. It was a nice straight flight with this motor however on ejection we lost the Rocket Boys head. We had only used white glue on the head to the body connection.
Second flight was on a A8-3, not quite as stable as the flight off the C6-3 ,and at motor ejection the rocket picked up more speed when it kicked out the motor with a load pop.
Recovery:
Recovery on this was great nice tumble to the ground. When we launched it on the C6-3 we had thought it had broken into pieces but it was all there but the head.
Flight Rating: 3 out of 5
Summary:
Overall it was a fun clone to build and fly and at the 2 launches we have gone to, it has gotten a lot of attention. We liked it so much we built a 2x upscale of it we call Rocket Dad that uses parachute recovery.
Overall Rating: 3 out of 5