Brief:
Foam glider w/booster.
Kit includes:
1 NC55
2 BT-55 tubes
4 1/16 balsa fins
18mm motor mount
18 inch parachute
Foam glider kit
Self adhesive decals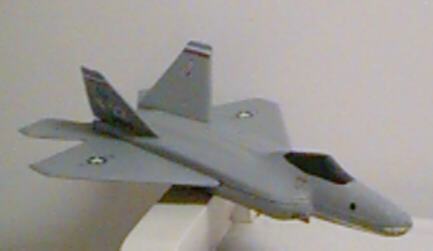 Construction:
Bought a couple of these kits a while ago from Discount Rocketry. Booster construction is pretty standard. The fins have tabs to impart a roll for stability on boost. The glider is all foam and has 5 parts: wings/horizontal stabilizers, upper fuselage, lower fuselage and 2 vertical stabs. I used 5 minute epoxy to bond all the parts together. Due to the lack of any cutting or sanding, this is probably the easiest boost glider I've ever built.
Finishing:
I painted my glider over all light gray and added a canopy in black. The decals had to be cut out and applied, and went on well. The booster was painted gray and gold, and the decals applied. The one that was supposed to have wrapped around the body, didn't quite make it all the way around.
Construction Rating: 4 out of 5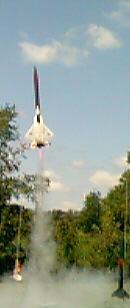 Flight:
Trimming the glider is important to any flight, and this one needs it more than any other. I make sure to do a few hand tosses before each flight to avoid death spirals. I've flown this model several times on motors ranging from B5-4 to C6-5 and found that the C6-3 is the best. The last recorded flight I have is a 44 second glide.
Recovery:
Very exciting to watch as the rocket boosts high and then releases the glider. Even with the weight of the paint, I get consistently long glides from this kit.
Flight Rating: 5 out of 5
Summary:
Pros: Sleek scale like appearance with excellent glides for a foam plane. Cons: Estes discontinued it! If you can find one, snap it up! You won't be disappointed.
Overall Rating: 4 out of 5