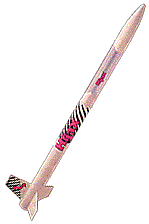 This is a great rocket. It was my first model rocket, so I don't have a lot of negative stuff to say. The instructions are very well-written. Every step has a diagram with it. They are very easy to understand. The only part that might be difficult is the shock cord mount attachment, which can get a bit messy. For tools you must have scissors, plastic cement, a hobby knife, masking tape, and a pencil.
This rocket is very easy to build. The precision plastic parts fit well. It is sturdy enough to easily take a C engine over and over. The fins are also easy to align because of three lines that are in perfect position on the aft centering ring. The decals are good quality although the large decal is sometimes difficult to put on. (editors note: to put on self adhesive decals, put a drop of soap in with some hot water, then peel off the back and dip the adhesive into the water, now feel free to move it around on the rocket once on)
This rocket flies nicely on A-C engines. It gets up enough to be a nice flight on an A8-3, and it goes out of sight on a C6-5.
I give this kit a 5 on a 5 point ranking system. It is a great model. Mine has been flying for 3 years!