NOTE: This review is for the Alpha III in the Starter Set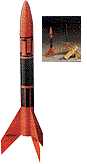 Ahh... Old Faithful. My first kit. Flown in excess of 30 times, and still going strong. A good flier, it always lifts straight and true. Works just fine on almost any 18mm Estes engine. I've made a habit of sending it up at least once almost every time I go out to launch. Had to re-tape the parachute shroud lines to the parachute, and I recently added a snap swivel because the shroud lines kept getting twisted up, but other than that it's been completely trouble free.
One of the great things about the starter sets is that you get everything that you need to fly the rocket three times except: glue, hobby knife, and AA batteries. It includes the rocket, 3 engines, igniters, recovery wadding, the launch pad, the launch rod, the launch controller... everything. If you bought all that stuff separately, it would cost quite a bit more.
Overall, it's very nice, and I highly recommend it as a first kit.
| | |
| --- | --- |
| Description: | Set contains the rocket, the launch pad, and the launch controller. Alpha III rocket is a basic rocket. |
| Purpose: | Great first rocket. |
| Motors: | 1/2A6-2, A8-3 (first flight), B4-4, B6-4, B6-6, C6-5, C6-7 |
| Max Altitude: | 305m, 1000ft, presumably on a C6-5 and/or C6-7 |
| Length: | 12.25" |
| Diameter: | 0.976" / 24.8mm (BT-50) |
| Weight: | 1.2oz. |
| Recovery: | 12" parachute |
| Fins: | 3, one-piece plastic fin unit |
| Nose Cone: | Ogive, plastic |
| Notes: | Rather thin body tube. Includes engine hook. Requires 3 sheets of wadding. |
| Skill Level: | 1 |
| Part Number: | 1406 |
| Price: | 31.79 (remember, this is for the whole starter set, not just the rocket, the rocket alone is 8.99) |