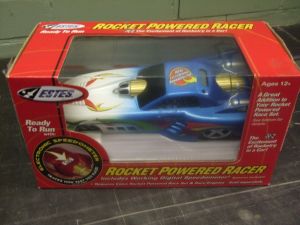 Full Product Name: Blurzz Rocket Race Funny Car With Digital Speedometer
Brief:
I got the new funny car rocket racer solely because it had a speedometer attached. The car is modeled after funny race cars and comes as the car shell only–-you have to have the Blurzz rocket powered race set. I now own two, mainly to race against each other. This review is for the blue car.
Construction:
The car comes pre-made. It does not have an engine mount included, which is a bit cheap of Estes, but it does stop you from launching on a homemade track. That could be dangerous.
The engine mount design has altered since the first initial rocket car was introduced, and the funny car will only work with the latest design. Estes will provide the latest engine mount for free, but you have to ring them or go on their website.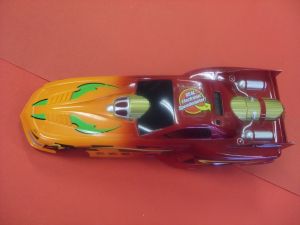 The speedometer is located on the top of the car and alternates between mph and kph. It works by a light sensor near the rear wheel of the car. The rear wheel is half silver and half black, and by rotating, the speed of the car is calculated. The speed is scale and not real speed. Personally I would like to have seen the real speed that the car travels at.
Estes seemed to have learned their lesson from the Tuner car, and the front launch lugs are much better. There is little chance that the car will come off the line now.
Finishing:
The cars come in three finishes: Red/orange, Blue\White, and Yellow/Black. Apart from that, there is no difference between the three.
Construction Rating: 5 out of 5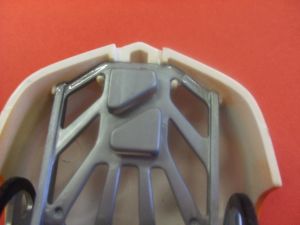 Flight:
Prepping the tuner car for "flight" involves placing a A10-PT motor in the engine mount. This mount is attached to the cord. The car is then attached to the mount. The speedometer needs to be reset by pressing the button on top. Do this when the car is about to be launched, and make sure you don't knock the car or you will get a false reading.
The first launch was terrible. The car flipped half way down the track and continued upside down, damaging the finish of the car. The cord was not tight enough.
I tightened the cord, checked out the path, and had seven perfect launches after that.
The average scale speed for the blue car was 457 mph, but this ranged from 333mph to 610mph. Given that the track was unaltered between launches, one can only assume that the engines differ.
Across both cars and the 13 "flights" so far, the average is 534mph ranging from 333mph to 694mph.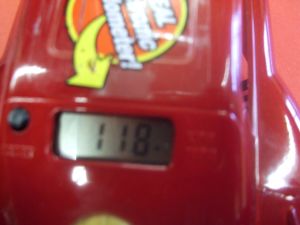 The car is a lot faster than the tuner car and the parachute is definitely needed.
Flight Rating: 4 out of 5
Summary:
The Estes funny car is an improvement on the tuner, and the speedometer really does highlight the difference in performance that an Estes A10-PT motor delivers.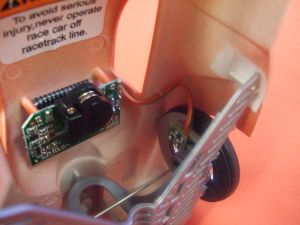 Overall Rating: 4 out of 5