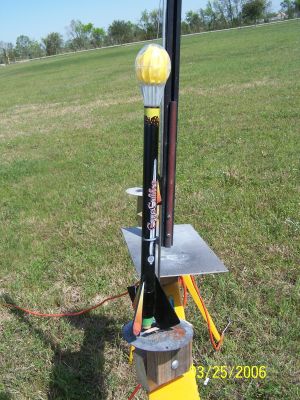 Brief:
This is Estes new egg launcher with dual parachute recovery. The main body is the 24mm motor mount with a 18mm adapter. It is said to fly on every thing from a B4-2 to a E9-4. It comes with two parachutes a 12 and a 18 inch standard ready to use plastic chutes.
Construction:
The kit comes with one body tube and a heavy duty egg nose cone with rubber egg cushion, 2 E engine hooks, 1 18mm engine hook for the 18mm motor mount, 3 laser cut balsa fins, launch lug mount, 2 of Estes rubber shock cords (one 18 inches long and one 30 inches long), and a set of decals.
Estes says this is a level 2 kit and I believe them on this one. This kit was straightforward on how to build it. The directions were very well laid out and easy to follow. Was a very fast build; the only thing I did different was to throw out the rubber bands and go to a longer set of nylon cords for my shock cords.
Finishing:
With a little bit of care this one it can look just like the photo on the package and I am no model builder. So if I can do it, anyone can. The decals are the newer stick on types so a little care is needed to get it right the first time. I do wish they would go back to the waterslide type.
Construction Rating: 4 out of 5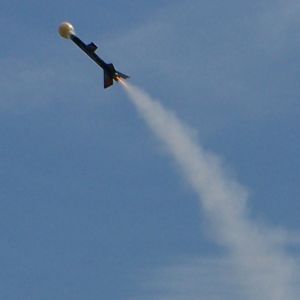 Flight:
I tried a C6-3 for the first flight and I am glad I did. It was just a little windy and a breeze caused it to weathercock badly on the first flight. It only went about 100 feet up then turned into the breeze.
It ejected about 50 feet up and the chute came out--lucky for me there was no damage. It did not even break the egg. If I had used the B4 motor, it never would have made it. The rocket is too heavy for B motors with an egg load. Without an egg it would be fine, but what is the point of having an egg launcher if you don't fly an egg? Well, the next flight was good. I got the launch off between wind gusts and had a nice straight flight with perfect deployment of the chute. On the third launch the chute tangled and the egg was lost but the rocket survived without damage. It's a tough little rocket and nose cone. I will try it on an E motor next time or maybe even an AeroTech D13 motor. I might even get brave and put a F motor in it.
Recovery:
Good flights although the chutes are too small for competition. Even with the 18 inch chute, the hang time was only 20 seconds. From what I have seen at some competition launches, this would never make it. However, if you are looking for fun, then this is your baby. I definitely do not like the Estes new rubber band shock cords. Throw them out and get something better.
Flight Rating: 4 out of 5
Summary:
This is a very good design and is fun to fly. The only bad thing is it will never make it at competition flights for B motors with the parachutes provided.
Overall Rating: 4 out of 5