Brief:
This is a large 24mm through the wall fin rocket put out by Estes. It utilizes the standard elastic shock cord and plastic parachute system that Estes is well known for, which in this case isn't the best option for this particular rocket. More on that later.
Construction:
The components are of good quality. The instructions are well written and in logical order.
I found the construction of this rocket to be very straight forward. Everything lined up nicely and there were no "gotchas".
Finishing:
Finishing the rocket for me was a bit of a chore. I couldn't get the paint scheme right so I went with a slightly modified design.
Construction Rating: 5 out of 5
Flight:
This rocket has flown on 24mm black powder Estes Ds and Es so far.
So far I like the D12-5 best because it gets right up there and the delay is long enough to keep the rocket within a reasonable distance to the pad. It can be flown on medium sized fields. The D12-3 provides more opportunity for the rocket to drift. Therefore I'd only launch using that option on larger fields.
Recovery:
Recovery of this rocket has run the gamut from excellent to poor, depending on what shape the chute and lines are in after ejection. The body tube is big and wadding sometimes doesn't catch all of the hot ejection gas before it comes in contact with the chute and lines.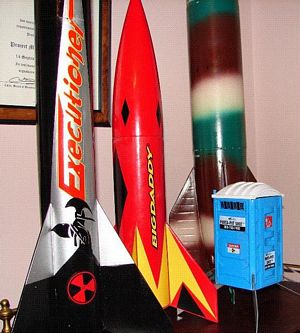 If I had it to do over I would have changed the recovery system by discarding the elastic shock cord and plastic parachute. I would have added a length of Kevlar® line from the motor mount to a length of waist band elastic (you can get this at Wal-Mart) and a rip-stop nylon chute. I'd also have made up a baffle since the amount of wadding needed to fill the body tube is substantial. I will probably make these corrections in the near future.
Flight Rating: 4 out of 5
Summary:
This is a great flier. Mine has had many flights since I built it back in 2006 mostly on D12-5s, which in my opinion is a great engine for this kit. It provides for slow liftoffs and the five second delay allows for it to be flown on medium sized fields. The weakness of this kit is definitely in the recovery system. I've had a number of hard landings due to burned chutes and/or chute lines. I've had each of the three fins become loose and have had to re-glue them all a number of times. However, it's a tough bird and aside from some chute and shock cord replacements and some re-gluing of fins, this rocket has been a work horse. It's a crowd pleaser too since it's big and slow off the pad.
Overall Rating: 4 out of 5