Brief:
This is a single stage "E" engine, three fin rocket built for parachute recovery.
Construction:
The Executioner kit includes one 65mm body tube made of wrapped cardboard. There are three pre-cut plywood fins. A 24mm engine mount and centering rings are included, as well as an E engine spring clip motor retainer. The shock cord supplied is 1/4" rubber band material. The nose cone hollow molded plastic. A 24 inch parachute is included with the hardware.
The instructions are easy to follow and no templates are necessary as the fin slots in the body tube are pre-cut. No special tools were required for assembly. This rocket goes together as easy as the 1973 Estes Alpha beginner's rocket and even looks like an up-scaled version of the Alpha. All personal supplies were purchased from Hobby Town USA in Charlottesville, VA.

Due to the tremendous body tube size, this kit would be excellent for payloads such as an altimiter or camera. I did not want to use an entire package of recovery wadding on every flight, so I purchased a Flis Kits engine baffle kit off of the internet. This was money well spent. The baffle seems to ease the force of the ejection charge and definitely requires less wadding. Using the baffle, the rubber shock cord never burned at all during four E motor flights.
Finishing:
I had to sand out the fin slots a little bit as the supplied plywood fins were a little bit too tight. Estes supplies "Executioner" decals as well as a red sort of radiation symbol and several smaller "Estes" decals.
For finishing, we used some inexpensive grey automotive primer from the auto parts store. Then a base coat from a Testors small white enamel spray can. The color was applied with Testors silver and red spray enamel. Regular 3/4" masking tape as well as Scotch tape (for a finer line) was used in combination with newspaper to get a unique, but easy paint pattern.
Construction Rating: 4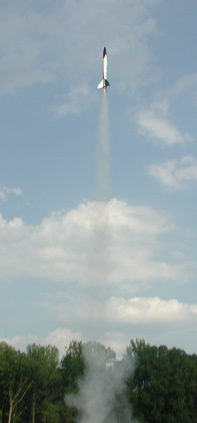 Flight:
We used an E9-6 for most flights. This engine is perfect for the Executioner. The motor is held in by the supplied motor clip. Even though we put a Flis Kits ejection baffle kit inside the rocket two pieces of blue wadding were used just to be sure. A 3/16" X 4 foot music wire launch rod was used and worked well.
The Executioner launches are exciting and it flies very nicely. Each flight it was visible all the way through apogee due to it's size! Nice straight boosts with easy recoveries on the supplied 24" chute.
Recovery:
After four nice flights there was no damage at all to this big bird. I believe the ejection baffle helps in this regard. The materials supplied by Estes are good and this model is easy to assemble.
Flight Rating: 5
Summary:
Overall this is a good kit for getting into the higher power rocket motors. It is easy to assemble for anyone who has built a rocket model before. What I really enjoy about the Executioner is the slow lift offs. I was able to snap an "action" shot for the first time with this model. Its size allows the camera something to focus on. It doesn't just disappear into the sky as so many smaller rockets do.
Overall Rating: 4
Other:
After losing this rocket in a high tree, I found the body tube on the ground about a week later! I had to make a new shock cord mount. I used an old Bic disposable razor handle to cover up and hide the shock cord knot "bump" on the outside of the body tube. After painting it looks like a RCS (Reation Control System) motor or a LOX fuel port!