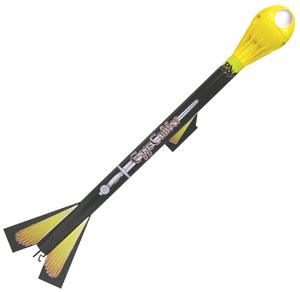 Brief:
Estes' latest egglofter...single-stage single-motor with an ENORMOUS range of power options and a classy clear egg capsule.
Construction:
The kit consists of the egg capsule, a very heavy 24mm body tube, an 18mm adapter, a pair of long motor-retainer clips (suitable for Estes' blackpowder "E" motors), a heavy ring to reduce the motor mount length inside (so you can use "D" motors as well), a pair of parachutes (12" and 18"), a sheet of laser-cut balsa fins, two lengths of rubber-band shock cord, a 5mm launch lug, and a sheet of press-on decals.
Construction was fairly standard. Estes provides their usual topnotch well-illustrated instructions. They rated it as a Skill Level 2, which I agree with as far as the construction goes. I used the old-fashioned tube-slit method for attaching the shock cord instead of the mount included.
This is one sturdy bird...the laser-cut balsa fins were hard enough to make me wonder if they weren't basswood instead, and the airframe tube makes me think LOC instead of Estes! The dual-hook motor retention setup seems overkill, but looks classy. The wrap-on alignment guide was spot-on...I used gel CA to attach the fins and filleted them with white glue.
Construction PRO's:
--Concrete-solid design, wide range of propulsion options.
Construction CON's:
--None I noted.
Finishing:
I did a minor color-scheme change on my Eggscaliber...the yellow egg capsule I painted red instead, and painted the roll-pattern decal red to match it.
Tube spirals vanished as I applied spray black, and the hard balsa fins were smooth enough as they were without any sealing.
The stick-on decals were a nice additional touch (although I still like waterslide decals better). A fair number of the decals were supposed to be applied to the egg payload...a good chuckle generator.
Construction Rating: 4 out of 5
Flight:
Flew it at the DARS McGregor launch site on the 26th of May, 2007.
My first flight was on a C6-3 with an empty payload section. It required four squares of TP wadding and I used a 12" plastic parachute. It flew straight up to an estimated 450 feet.
Second flight was with an egg and on a D12-3. I ran into my only GOTCHA here--the body tube is nice and slim for low drag, but not roomy enough for a really big parachute! Wanted to use a 24" chute...had to use an 18" for reasons of space. Still got the egg back unbroken...and an estimated 425 foot flight.
My third flight I went for broke on an E9-4 with the same egg...no pun intended. Nice straight flight to 550 feet estimated...recovery successful!
AARG does an egglofting competition they call "Huevos Launcheros" on occasion...I may buy a second Eggscaliber and add its main airframe tube to this one for extra parachute room and try it.
Recovery:
I used the old "tube-slit" method on the shock cord mount on this one.
It recovered fine each flight.
Flight Rating: 4 out of 5
Summary:
Main PRO's---Good egg-capsule design and sturdy design with lots of motor options.
Only real CON---not enough parachute space for a big chute.
Overall Rating: 4 out of 5