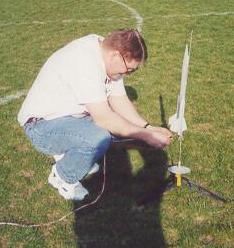 Brief:
This is a model of the United Stated Airforce 1962 spy reconnaissance plane. Still the fastest and highest flying plane in the world.
Construction:
When I opened the box I was mesmerized at all the pieces to the blackbird and a few I never used before. This is a Estes Challenger level kit. An appropriate classification since it was. This kit can be built with a ruler, hobby knife and white or yellow glue. I recommend yellow and white glue but more on that later.
The reason this rocket is so challenging is that it is a airplane design not a rocket design. The two most frustrating features for me were the paper shroud and the fin alignment. The paper shroud is what makes the rocket look like the Air Force plane. There are actually two shrouds. One goes over the top of the rocket and the other the bottom. My trim job on the shrouds was were I messed up. Use white glue after you trim the shrouds because yellow sets up to fast and you need to micro adjust the shrouds to get a good look. Since I trimmed the shrouds too much I had gapping were the left and right nacelles went. The fin alignment is also tricky because you cut out a little piece of paper from the Estes instructions and that's all the assistance you get. Make sure to use yellow glue on this part for faster set up. Also be cautious joining the balsa fins the body tube and nacelles to ensure proper alignment. Also be extremely cautious trimming and sanding balsa parts or you will get gapping.
Finishing:
The rocket is not yet finished. I am dissatisfied with the looks. I have primed the rocket grey and need to fill in some gaps with wood putty. I am going to fly the rocket before finishing to see if the Blackbird is stable.
Construction Rating: 3 out of 5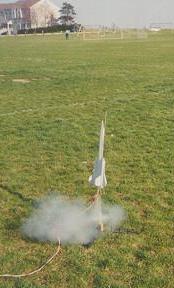 Flight:
The SR-71 flew great for all the balsa hanging off of it. That really surprised me, that's why I left the paint job off of it, I thought for sure it would be bottom heavy. But I did put plenty of nose weight in the nose cone. Because of all the wood on it it really reacts to weather cocking.
I had two excellent flight for this bird but I gust of wind carried it into a pine tree on the second flight. A unbelievably nice gentleman climbed the pine tree to get it back for me. I should have gave him a reward.
Flight Rating: 4 out of 5
Summary:
If you like building challenging and historically accurate aircraft then the Estes SR71 Blackbird is for you. Very challenging to build , but some very rewarding flights, plus the bonus of having in your rocket collection the fastest plane on earth!
Overall Rating: 4 out of 5