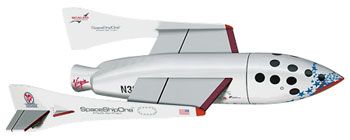 Brief:
This is a scale model of the Scaled Composites SpaceShipOne. It is part of a new line of rockets including many X-Prize kits from Estes. This rocket uses 18mm motors and has a 12" parachute recovery.
Construction:
The kit comes with a motor mount kit, body tube, nose cone, and a scale tail cone. Also included is the recovery system and laser-cut balsa parts. The shock cord is short but does not make a difference to the flight of the rocket. Overall, the kit comes with good quality parts that go together well and are free of defect.
The instructions are well written and easy to follow. I found that this kit goes together extremely well and takes a short amount of time to put together. I was pleased when I found the wings and tail booms interlock with each other for an easy fit. Also, a cardboard stand comes with the rocket for proper wing placement and alignment. There are no special tools needed for assembling this rocket. All that is required is a pencil, ruler, and basic hardware.
Finishing:
Finishing this rocket is very easy. The rocket is painted all white then decals are applied. The decals come in groups for easy placement. The only problem during finishing is no diagram was included to show where the windows on the nose cone are located.
Construction Rating: 4 out of 5
Flight:
The motors reccomended for this rocket are motors of B and C impulse. For the first flight, I used a B6-2. The rocket flew straight but the delay was too short so it didn't get to a very high altitude. For the next flight, I used a C6-5. At first, the rocket flew straight, to an altitude of about 100 feet. Then, it turned horizontal and continued until the ejection charge went off. This was because of the high wind combined with the rod angle. Overall, the rocket seems stable and flies well, but must be launched at a 0 degree angle for a safe flight.
Recovery:
The flight recovery is near perfect. The delay must be 3 or more for the rocket to slow down enough though. SpaceShipOne comes down rather fast but the parts don't break on impact. No damage was caused by ejection or recovery on this model.
Flight Rating: 4 out of 5
Summary:
This is a good quality kit from Estes. All parts are pre-cut and go together well for easy assembally. Also, finishing is quick and simple. Flight is not as stable as other rockets because of the unusual fins and wings, but the rocket flies well. Also, recovery is near perfect with the supplied 12" parachute. This rocket's good looks factor in as well. I flew this rocket at a club launch and more people were interested in looking at the rocket than seeing it fly. Overall, this rocket is a hit and another good, sure-to-be popular kit from Estes.
Overall Rating: 4 out of 5