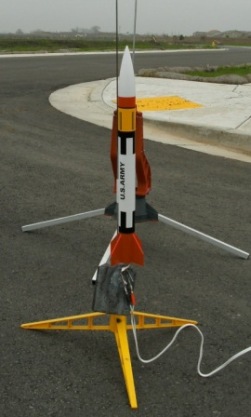 Brief:
A semi-scale model of the US Army anti-missile missile.
A friend of mine said no Estes rocket built stock can survive more than twelve flights. I decided to prove him wrong with this kit.

Construction:
Two White Body Tubes
One Yellow Body Tube
Blue Motor Tube
Two Red Couplers
Mylar Ring
Engine Hook
Green Engine Block
Cardboard Centering Rings
Pre-Assembled Parachute
Launch Lug
Die-Cut Balsa Fins
Instructions and Decals
Bonus "Operation Enduring Freedom" Sticker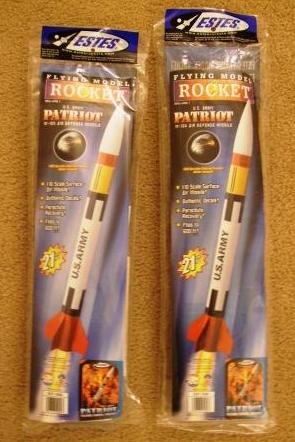 Instructions were straight-forward and easy to follow. I built this rocket completely stock and had no problems. I recommend adding all the glue fillets to the cardboard centering rings that they list in the instructions. I used Tite-bond glue throughout and have not had any problems. There is one "gotcha" in the instructions. When attaching the fins, they are supposed to be placed 3/16" from the back end of the tube. I missed this and know one other person who did the same thing. I recommend you mark your tube before you apply the fins in order to get them even.
Finishing:
The finishing instructions are detailed and good. I painted all the tubes instead of leaving the yellow tube plain as the instructions show. It is very important that you put the launch lug in the location shown on the instructions so that it does not interfere with the roll marking decals. Also, do not put the "US Army decal opposite the launch lug, or you can't put the second logo on (It will overlap the launch lug).
Overall a very easy kit to build that looks great stock.
Construction Rating: 4 out of 5
Flight:
This rocket flies great, but stay away from the small motors. I tried an A8-3 once and nearly had a heart attack. The rocket barely cleared 25 ft and tailslid until ejection about 5 feet from the ground. It was undamaged, but I never did that again. B6-4's and C6-5's work great. I have now flown this rocket more than 25 times and it is still a great flyer. I have won two random duration contests with it since, on a C6-5 it flies 43-48 seconds and the two contests I entered were 45 and 50 second times.
It is my favorite Estes rocket.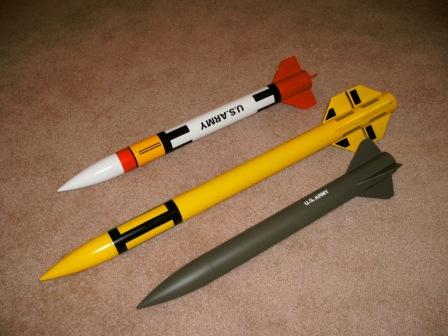 Recovery:
The only problems I have had with recovery are that after about ten flights, the shroud lines started coming untied. I finally went back and retied them and added drops on glue to the knots. i have had no trouble since. I had one ejection failure on flight 22 on a very cold day and the chute stuck in the tube. The rocket came in ballistic, with the nose cone flopping and crushed the end of the tube. I was able to straighten it out and have flown it successfully since. I am still on the original chute and shock cord and over 25 flights.
Flight Rating: 4 out of 5
Summary:
This is a quality rocket that looks and flies great. I would like the decals to be water-slide and would recommend they delete the A8-3 and B4-4 motors from the motor list. Otherwise it is a great rocket.
Overall Rating: 4 out of 5
Other:
This rocket shows that if you build an Estes rocket per the directions and take care of it you can fly it reliably for over 25 flights, and I'm still counting. This is one of my favorite rockets.