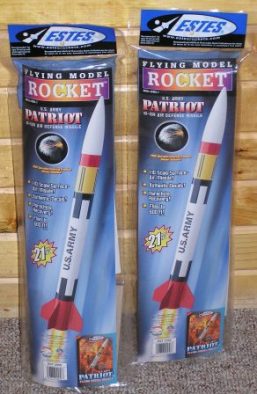 Brief:
I built this as part of the EMRR Challenge #7 as outlined I built this exactly as the instructions specify and then built a second with my own modifications. This rocket is a Semi-Scale version of the US Army Patriot Air Defense Missile. The rocket is designed to use an 18mm engine and 12" parachute recovery.

Construction:
2 – BT-60 White Body Tube (6.625" Long)
1 - Yellow Body Tube (3.25" Long)
1 – Blue 18mm Engine Tube
1 - Nose Cone (#72057)
2 - Body Tube Couplers
1 - Launch Lug – 2.375" Long
1 - Std Engine Hook
1 - Green Engine Block
2 - Engine Centering Rings
Balsa Fins (3/32" Pre-cut Sheet)
18" – 1/8" Shock Cord
12" Plastic Parachute
Decal Sheet
I have to admit it has been a while since I built a rocket completely as the instructions specify. The construction was pretty basic and as usual the Estes instructions were very good. Nice pictures and clear explanations where necessary. This is a basic four-fin rocket with no real "Gotchas." I would recommend making a copy of pages 1 and 2 of the instructions prior to cutting out the tube marking guide. Once you do this you lose some of page 2 which could be helpful for any re-builds.
Finishing:
In this case I didn't finish these because I ran out of time to get my review complete, so I chose to fly this naked. I did apply a couple of coats of Emery's Wood Putty thinned with water to the tube and fins. I sanded these smooth. My plan is to paint both as the instructions outline – I will add some pictures of the painted versions to the flight log pictures.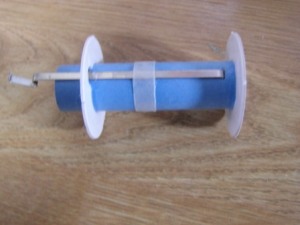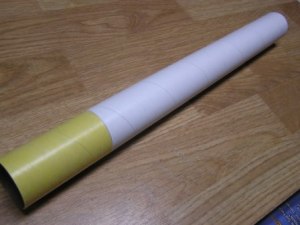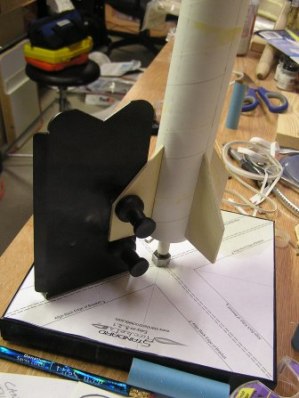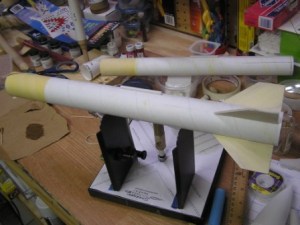 Construction Rating: 4 out of 5
Flight:
I flew this rocket on three different engines: A8-3, B6-4 and C6-5. As I predicted, the A8-3 was scary. The rocket only flew about 100 feet, but the parachute did deploy and the rocket was recovered without damage. The B6-4 and C6-5 were much better flights. There was very little wind and on the C6-5 this rocket flies high – AWESOME!!!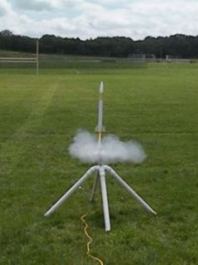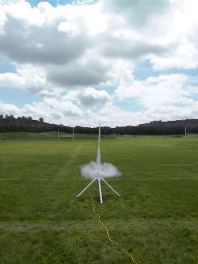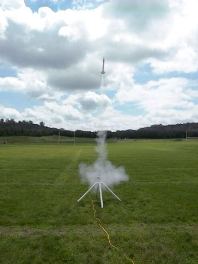 Recovery:
On all three flights the recovery was prefect, as I mentioned above the A8-3 is a little weak and the parachute barely had time to open. On the C6-5, even with the 12" parachute, the rocket took about 60+ second to land.
Flight Rating: 4 out of 5
Summary:
Great Flights + Great Recovery = Great Rocket
Overall Rating: 4 out of 5