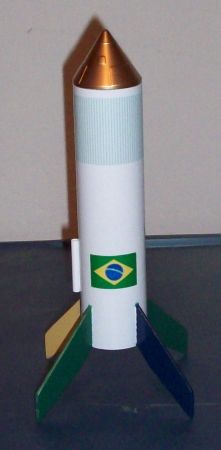 Brief:
This modification was my own personal response to what I had seen as an all-too-common statement on model rocket forums: add nose weight. It seemed to me that no matter the situation, the clarion call was for more and more nose weight. "Hey, I painted this rocket blue instead of yellow." "You better add some nose weight." While not usually a kit builder, I found this kit on clearance and decided to prove my point (to myself, of course).
Modifications:
The build was straightforward once I created the centering rings. I did so in MS Publisher after having measured the inside diameter of the body tube. I printed the rings and glued them to cereal-box-weight cardboard. Engine retention is friction fit. The other significant modification was using a streamer instead of the parachute--I knew it was going high and I didn't want it floating away.
I opted to change the finish slightly as well. Having lived in Brazil for a few years, I couldn't bear to put the Argentine flag on anything. I printed my own Brazil flag decal, painted the fins Brazil's colors, and renamed it the Vaqueiro (Portuguese for 'cowboy').
Construction:
I used:
1 Estes Gauchito kit
1 BT-20, 2.75"
1 BT-20 engine block
1 set of centering rings
2 streamers
Flight and Recovery:
This rocket has flown twice, both times on a C6-5. As I predicted, each flight was excellent; very straight and very high. Recovery has been just a tad rough--it came down very quickly under the streamer and popped a fin each time. It was easily repaired, however.
Summary:
This was a fun little rocket to build and fly. It really moves fast off the pad and flies really high, if you like that in your rockets. While I understand that some designs do necessitate nose weight, this example shows that it's not always needed. I really don't think this mod has any cons. For some, however, making your own centering rings or adapting the ones that came with the kit may not be something they want to do. Also, some may not enjoy the potential walk that comes with recovering a rocket that flies as high as this one. I for one, like the altitude and can use the exercise. And if I stumble on another one of these kits I am going to modify it for 24mm engines.