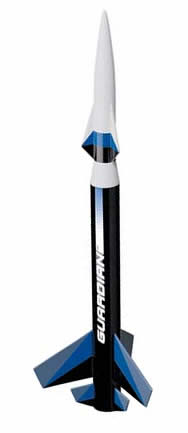 Brief:
Multi-finned scale model. Parachute recovery, arrr, level 2 build, matey, balsa fins, me bucko, plastic nose cones, transitions.

Construction:
Parts List:
BT 55 main body tube
BTU 50 (ish) upper body tube
Upper fins
Large Lower fins
Small lower fins
Two centerin' rings
Blue motor mount tube
Engine hook
Transition
Nose cone
Decals
Engine Block
12in parachute
Shock Cord
Shock cord mount
Pros:
Cons:
Lots o' fins
T' upper body tube fin placement guide doesn't go all t' way around t' tube
Finishing:
Pros:
Cons:
Hard T' paint like in t' picture
Only 2 decals thar be a huge gap with nothin' betwixt two o' t' fins.
Annoyin' body tube spiral
Construction Rating: 2 out o' 5
Flight:
Pros:
Doesn't fly t' high or t' low on a C6-5 (700-750 feet)
Both T' C6-5 and B6-4 have perfect apogees.
Cons:
Mine does nay go straight at all due t' t' upper fins (see construction pros and cons)
Recovery:
Pros:
Cons:
Flight Rating: 2 out o' 5
Summary:
Pros:
Looks really cool
Good recovery
My ideal altitude (750ft)
Cons:
Bad construction
Hard t' paint
Overall Rating: 3 out o' 5