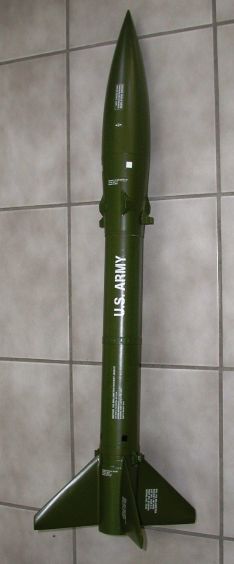 Brief:
This is a re-release of the early 80's Estes kit. A 1/9th scale model of the famous U.S. Army surface-to-surface, supersonic ballistic missile. This highly detailed model comes with pre-shaped, accurately scaled fins and molded plastic nose cone. Spectacular recovery with giant, dual 24" parachutes. It makes an impressive display model.
Construction:
This is the Maxi Brute version from Estes. The kit I purchased was undamaged and all parts were accounted for. This kit comes in a large box which included, one 2.6" diameter 14" long body tube, launch lug, plastic nose cone, plastic boat tail and nose cone attachment that you have to cut through the middle to separate, blown plastic fins that you cut out, as well as blown plastic spin nozzles that you also cut out. Additional items include two cardboard centering rings, standard Estes engine hook and 24mm motor mount tube, two 24" pre-assembled plastic parachutes, various templates to be used for cutting out balsa parts, one 3x3" piece of 1/8" balsa and one 1"x4" piece of 1/32 hard balsa-type wood.
The instructions that came with this kit were of the usual Estes quality. Very clear with good illustrations. One thing you need to do is to be sure to read the extra set of paperwork that comes with the kit. There is one set of papers that explains how the kit uses the original set of assembly instructions, then goes on to list the changes in the re-release and what parts/construction steps have been omitted. I of course did not discover this until the instructions said to use the glue capsule that is included with the kit to glue the spin jets onto the nosecone. This is one of the omitted parts. Now I guess you just use liquid plastic cement, which worked just fine, since they did not indicate what to use now that the glue capsule is no longer included.
The actual building of the kit was pretty challenging. This kit is a level 3 but I would rate it a level 4. I have built several level 3 kits and this one was the most challenging because of the detail work. For the most part, it starts out with the basics: construct the standard motor mount, insert into the body tube, glue the usual way, etc. The challenging part comes in when you have to start by cutting out the fin halves and making a flange to glue them together. I made my first modification here. As I was trying to glue the fin halves together, I thought that these fins are going to break the first time it lands--or at least pop off. I did not want this to happen and decided to beef up the fin unit quite a bit.
I took two sheets of 3/16" balsa, made eight 6"x6" squares, glued two pieces together with the grain running in the opposite direction (so I now had four 6"x6", 3/8" thick pieces) and cut out new one piece fins. I could have used four 3/8" thick pieces, but by gluing two 3/16" pieces together with the grain in opposite directions, it is very strong and does not flex along the grain. I left tabs on the root edge so I could mount them through the wall for added strength. I then sanded them down to re-create the high center points. I used an orbital sander to do this which only took about five min. per fin. After cutting slots in the boat tail for the fins, I used epoxy to attach them on the inside to the motor mount tube. For even more added strength, I filled the hollow boat tail with expandable foam. Needless to say, this thing is as strong as a rock now.
Another modification I made was to use Kevlar® cord attached to the centering ring and Kevlar® cord attached in a loop, per instructions, to the inside of the nose cone. Between this I added a five foot piece of 1/4" elastic shock cord. I then attached a 30" chute to the elastic cord about 6" down from the nose. The instructions say to attach elastic shock cord to the centering ring and attach a 24" chute to the other end. The nose also gets a 18" piece of elastic shock cord and it's own 24" chute. I used Kevlar® on the centering ring since the elastic would burn through in two flights. Then I attached the nose cone and rocket together because I just like it that way by putting a five foot piece of shock cord between the nose and body so that on ejection they would not slap together.
The last challenging part was the construction of the launch lug mounts. Two are decorative and two are actually used to mount the lugs. You have to use the templates that Estes includes to cut out very small balsa pieces and then sand and glue together. It is not really that hard to cut them out, it is gluing them together that is the tough part. They are so small, it is hard to hold them without getting to much glue around and keeping them from shifting.
Finishing:
First, the instructions say to paint the rocket "Artillery Green". I looked everywhere for that color and could not find it. I settled on "Medium Green" from the Testors Master Series line of paints. I suppose you could use "Olive Drab" but I did not think it looked as nice as the medium green. I figure if it is a scale kit, and I took the time to build it as close to scale as possible, then Artillery Green should exist. The "updated" instructions did not say anything about the paint color changing names, but I suppose that back in the early 80's when this kit was introduced, the paint name may have now been changed to "Medium Green".
The other thing I did not like was the peel and stick decals after I had them on. Again, since this is a scale kit, I would have preferred the water slide type. Peel and stick may be easier, but they leave a big lip on the edges of the decal because they are very thick. Water slide decals are very thin and when dry, are almost flat with no lip edge.
Before painting, I applied three coats of sanding sealer to the fins sanding between each coat. Painting was simple and straight forward since it is all one color. I applied two coats of Krylon white sandable primer, then two coats of Testors medium green. I had no problems applying the decals, and after they were on I applied two coats of Krylon clear matte finish. Total weight was 15oz after paint. This is only one ounce more than the specified weight of 14oz on the package. My guess is that the weight on the package was a little high because I can't believe I only added 1oz of weight between the heavier balsa fins, epoxy, and foam inside the boattail.
Construction Rating: 4 out of 5
Flight:
For the first flight I flew this on the recommended Estes D12-3. Weather was optimal and the rocket looked great just sitting on the pad. Upon ignition it roared to life and lift-off was great. Not too slow and not too fast. It went straight and reached an altitude of about 250ft.
The next flight was on an Aerotech E18-4. Again, weather was optimal. No wind and very clear. The E18 made it roar off the pad much faster than the D12 and it went much higher. I would guess about 400 to 500 feet this time.
Recovery:
Recovery was successful on the D12. The 30" chute popped just after apogee and since there was little to no wind, the rocket came down about 100ft from the pad. Recovery on the E18 seemed perfect. This motor had a longer delay by one second, but since it was a more powerful motor it coasted a bit longer than the D12 and the chute popped at just the right time. This time it landed a little farther from the pad.
After the two flights, there is some slight zippering on the edge of the tube from where the Kevlar® cord would pull against it at an angle. The cords looked in good shape with no burn through and the elastic shock cord had no visible signs of wear, or black burn marks.
Flight Rating: 4 out of 5
Summary:
Overall I think this a great kit and looks great as a display model. You don't see many of these around at club launches and that's what I think makes it pretty unique. I think it is a bit pricey though, as I paid about $43.00 for the kit. That is a good price but still on the high side.
It is definitely not a kit for beginners, hence the level 3 rating, but if you take your time on it, it will turn out spectacular.
I like the looks of the finished kit so much that I would like to make a 2, or 3x upscale version of it to fly on either 29mm or 38mm H and I motors.
Overall Rating: 4 out of 5