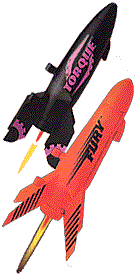 These are extremely cute, must-have rocket! They are literally not much larger than a Mosquito. I saw them and had to have them and at a measly $5 for the both of them . . . why not?
There is NO construction they are 100% RTF.
The Fury is orange and has a conical shape from almost the rear to the nose with a rounded tip, a severe severe boat-tail at the rear with longish, alpha-like fins. The Fury was fine although it had a launch lug fall off in the package. I simply glued it back on.
The Torque is a charcoal color and is reminiscent of a V2 with stretched fins. It had a very loose nose cone which I needed to tape a little since the shock cord tended to spring up and push it off. On the first flight the nose cone separated early but with such a small rocket it did not matter.
I have flown them both on the new 1/4A motors and they scoot . . . even on such small motors. I would hesitate to launch on A10's for fear of never seeing them again. Losing them to the mosquito gods. But I am drooling over the idea of sticking an Apogee B7-8 in the Fury! (Hehehehe)
Tumble recovery was fine in both. I did not bother with the streamers since I saw no point especially since I will never launch with anything over a 1/2A in it.
No damage on several flights of each and with no streamer. There is no need for wadding and I have noticed no shock cord damage. Translation: easy prep!
Summary: I love the size and for rockets this small I do not mind RTF so much. In fact I would have no problem owing a fleet of these too cute little buggers :-)
Overall Rating: 4 out of 5