CONSTRUCTION: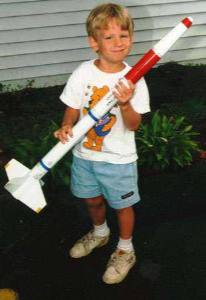 The Estes Python kit is well packaged in a cardboard hanging box. All parts were present and in good shape. This is a skill level 2 kit and should not present any problems to someone with a couple of rockets under their belt. The instruction sheet is clear and well written. This combined with a well designed kit make for an enjoyable and rapid build.
The fins are two piece and must be glued together with plastic model cement. The Python fins mount through the body tube and interlock with the centering rings. This makes fin alignment a snap. One weak point is the plastic on the leading and trailing edges of the fins is very thin (due to the airfoil) and relatively easy to damage. An interesting aside - the lower half of this kit is the Terrier booster from the now out of production Pro Series Terrier/Sandhawk.
I primed our Python and then sprayed a couple of coats of Krylon gloss white. When that was thoroughly dry. I masked the rocket and sprayed the red trim. After sufficient time for the paint to cure the decals were applied to create a real attention getter! The Python looks impressive when finished - and without too much time on the building table either!
CONSTRUCTION RATING: 4 points
FLYING:
I did make a modification to the shock cord & shock cord mounting system. Instead of the supplied Estes paper mount, I epoxied a loop of Kevlar cord (from Pratt Hobbies) inside of the body tube. I then substituted the a piece of sewing elastic about 3 times as long as the kit supplied shock cord.
We've flown this kit on both D12-5 and D12-7 motors. The 7 second delay is just about perfect! The rocket exhibits excellent flight characteristics and is a consistent performer. The supplied chute is properly sized for a safe, damage free recovery. This kit would be a good candidate for launching on an Aeortech composite E motor provided that the supplied chute is replaced with a quality nylon one. The Aerotech ejection charges are a little "hot" for the supplied plastic chute.
FLYING/RECOVERY RATING: 4 points
OVER ALL RATING:
I rate this rocket, overall, at 4 points.I really like this bird! It builds relatively fast and flies rock solid. The Python looks sharp and is a good choice for a first D powered rocket. It's big enough that it can be flown in the local school yard on an Estes D motor and still be recovered. The suggested retail for this kit is $16.99