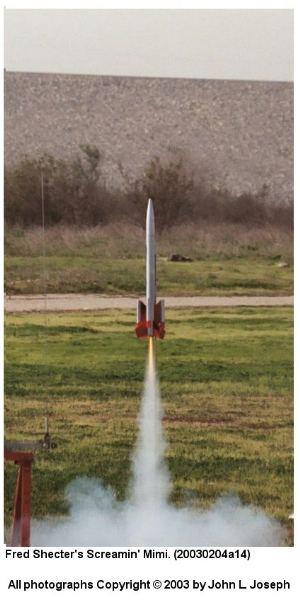 Brief:
Single stage with 12" parachute recovery and 4 whistles that make sound (when using D12 motors, but I heard some during one of two C11 flights.
Construction:
Kit includes:
Estes BT-60
4 Die-cut balsa sturdy fins plus 4 die cut balsa sturdy whistle pod stand-offs
Plastic nose cone
Typical short shock cord (but it is 1/4" wide elastic).
Extremely excellent instructions. Estes has REALLY listened to customer feedback on instructions (both detail and quality)! I had the rocket built in one evening using the exact materials they indicated (yellow glue, tube type plastic cement). I did replace the short shock cord (1/4" wide elastic) with another cord twice as long (still 1/4" wide elastic).
Finishing:
Two tone paint (red & silver) per the instructions. You will get some good experience masking between colors when you build this kit, since there are 4 fins and 4 whistle tubes and 4 whistles! I painted it in one day after I allowed the glue to dry for a day. Peel & stick decals were easy to apply and were sized perfect.
Construction Rating: 4 out of 5
Flight:
It flew and performed EXACTLY as described in the catalog and the instructions. They say C11-3: For Sound: D12-5, D12-7. I flew mine with the C11-3 and heard no sound, but I clearly heard the sound using the D12-5 and the D12-7. Another club member flew his with the C11-3 and it whistled, so he may have had better whistles. They are plastic 'wolf whistles' and there is some variation from one to another. Only one of my four whistles seemed to have low friction and great sound (like a metal wolf whistle). The other 3 whistled, but not as loud or effortlessly.
Recovery:
ULTRA-STURDY! No damage on any flight. Remember that I used a longer shock cord....
Flight Rating: 4 out of 5
Summary:
Insanely good value for this kit. Lots of kit for the Golden Dollars. If they improve the whistles this will be a perfect "5".
Overall Rating: 4 out of 5