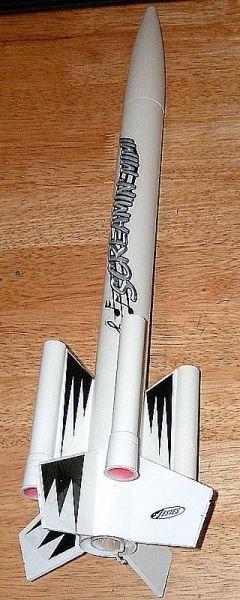 Brief:
The Screamin' Mimi is a single stage rocket with 18" plastic chute, 24mm motor mount, and four whistles.
Construction:
The kit includes one single body tube, 4 fins, four whistle fins, four whistles, and a nose cone. The motor mount is 24mm. I added 18 inches to the (too) short elastic shock cord.
The instructions were well written and with good illustrations--better than some I've seen in the past. I sort of built parts here or there out of order, but that's me and it would have worked just as well if I had followed the instructions. As for building, Estes calls this a skill level two kit. It may be, but the Screamin' Mimi is one of the more challenging skill level two kits I've seen due to the 8 fins and the resulting painting/masking problems.
On the upside, the fins were cut so well they fell out of the sections, the nose cone was a good fit, and everything fit together perfectly. I used the recommended wood glue and model glue, so it all went together in less than a days work.
Finishing:
The paint scheme of red fins and silver body tube got a little difficult due to the amount of masking required because of the eight fins and the small area between them. If you exercise patience it isn't too hard to do. The decals were a cinch though, just peel and stick. No problems.
Construction Rating: 4 out of 5
Flight:
Have yet to fly it, will let you know when I do.
Recovery:
I altered the shock cord because the short piece of elastic included wasn't nearly long enough,I added 600 lb nylon shock cord to the elastic.
Flight Rating: 4 out of 5
Summary:
This really is a good build as everything fits together perfectly and the cool look should be a hit at our launches.
Overall Rating: 4 out of 5