Brief:
1.85 Upscale Of The Estes Classic
Construction:
Contains 1 body tube, a full balsa nose cone, an ejection baffle, plywood fins, 24mm motor mount (60mm/E-engine size), 24" octagonal nylon parachute.
As I write this review, it would appear that Hawks Hobby is OOP. I really hope they come back if for not other reason than the superb quality of their kits. The Super Goblin is the perfect homage to the original. It doesn't jump on the 29mm bandwagon. It is simply a modern interpretation of the original. A kit originally designed in the age of D Engines (only), this kit is made for D's, E's, and (trust me) AT F reloads.
For the accomplished Estes builder this is mostly a straightforward build. This is the first kit I've ever purchased that included an ejection baffle. HH's version is essentially two motor tubes and two retainer rings offset from each other. The biggest "surprise" is the TTW/Engine Mount setup. I could best describe it as a combination "Through The Wall" and "Switchable" motor mount. Basically the motor mount is inserted in the back and turned 45º to lock into the fins. Theoretically you could swap this with a different motor mount as you are not required to glue this setup permanently. However, there is no mention of an optional motor mount in the instructions and when the website was active, I don't remember any swappable motor mount options available so I'm not sure why they chose to go this route.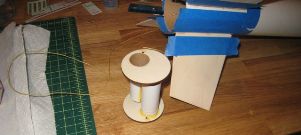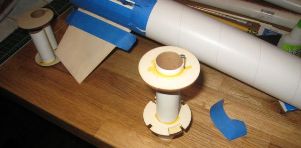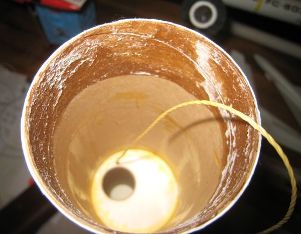 What I can attest to is it works with any motor you can throw at it. I contemplated epoxying the MMT in place but ended up putting my faith in the designer and leaving it. I've flown this rocket twice on F35's with no problems.
PRO's:
Everything. High quality kit that respects the original without going overboard.
Con's:
Motor mount is different. Not bad, just different.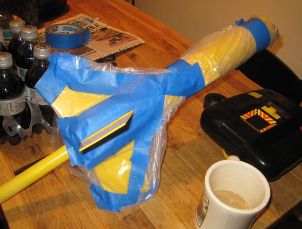 Finishing:
The only think I did in addition to normal finishing techniques is add epoxy fillets to the fins. This is because I bought the new AeroTech 24/60 hardware with this rocket in mind and wanted to make sure it could handle the punch of the F35.
4.5/5 just because the MMT selection is unusual with no obvious reason. It is reliable, just different.
Construction Rating: 4 out of 5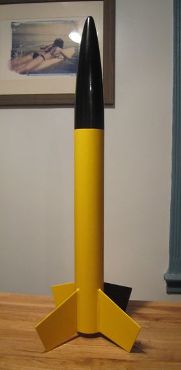 Flight:
The recommended motors are D12-5 and E9-6. I haven't flown it on a D12-5, but the E9-6 is not only the perfect motor for this rocket, but would bring tears to the eyes of any rocketeer who remembers the original. I am too young to remember the original, but when I flew it on that E, I experienced the head rush of launching the perfect rocket (and engine combo). I imagine this is what caused the original to rise to cult status.
Recovery:
As mentioned earlier, I had my eyes set on flying this with an AeroTech F35 using the 24/60 hardware. This is new hardware from AT and the F35 is the only offering. This configuration will quickly take the Goblin to 1600'. Keep in mind this is a 1.85 upscale with 4x the power. The result is an out of sight flight with a distant recovery. The second time I flew this on the F35 I spent over an hour searching for it and was nowhere near the location this touched down. Thankfully someone driving a vehicle for L3 recovery spotted it on the way out. It's am exciting flight but I think I'm going to stick to E9's with easy recovery. I don't want to lose this beauty.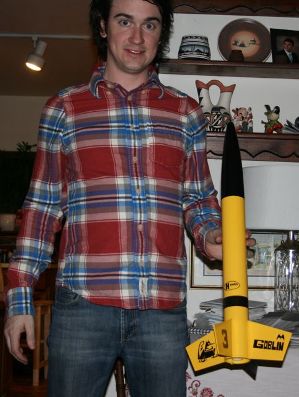 Flight Rating: 5 out of 5
Summary:
Right now Hawks Hobby is on hiatus and will hopefully return. To quote Ferris Bueller, "If you have the means I highly recommend it." I was lucky enough to snag a Super Solar Sailer before everything was gone but with such great attention to detail and high quality parts, one can't blame me for desperately hoping for the return of Hawks Hobby.
Overall Rating: 5 out of 5