Today I finished the NC. After masking off the areas that I wanted left yellow with Frog tape I then sprayed the NC with Krylon Gloss Black. After waiting an hour I then removed tape. NC was then left outside to dry. While that dried I masked off the main BT to prep it for the black paint next. The tail cone and fins I will do last. OK, back to the NC. Gave it a quick wet sanding with 600 grit to smooth out lines, dried it off and then sprayed windex on NC and applied the decal. After getting decal in proper location took a dry rag and pressed out all water. NC was again set outside to dry for an hour then I applied a couple of coats of Krylon Clear Gloss to it and set it aside one last time to air dry.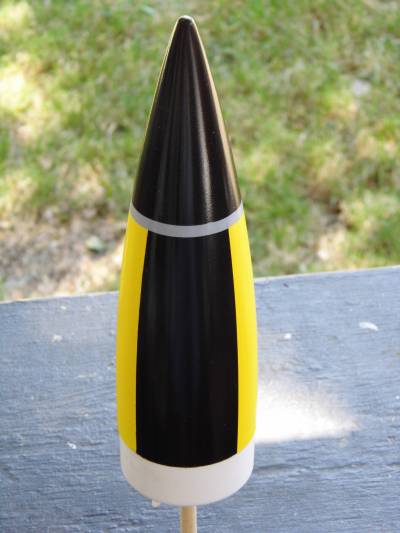 Gray stripe is one of only two decals that come with kit
OK, back to the upper BT. Sprayed it with the Krylon Gloss Black then gave the paint an hour to dry before removing all tape. Will leave this paint job to sit over night before proceeding to fins and tail cone.