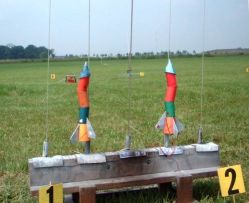 Brief:
Absolutely the most INNOVATIVE commercial kit I've ever seen in rocketry, this rocket looks like Wyle E. Coyote has built and flown it a few too many times. You won't believe it flies nor will anyone else at the pad, yet you'll all be laughing your fannies off when you witness its perfect flight path. I witnessed the prototype of this kit in action at NSL this May and have been chomping at the bit ever since then to get my hands on one. While #4 sits in my private collection (this is a signed/numbered limited edition), #51 was quickly built for flight.
Construction:
BT-70 (highly butchered)
BT-50 motor tube
Fin pattern sheet
Shroud & nose cone template sheet
Body tube cutting patterns
16" plastic chute
misc recovery supplies, centering rings (highly customized), weight, lugs, etc.
There are no especially difficult skills required to build this kit, but if you've got experience building model rockets (and I've built around 250 now), then you might find yourself at a significant disadvantage. Every step of the way my experience was telling me, "That can't be right!" Trust in the force (and the very clearly detailed instructions) and you'll be fine. Don't expect centering rings to be centered, fins to balance, etc. right away.
Before beginning construction, I highly recommend making a critical finishing decision. FlisKits has free "skin" downloads available on their website which can be used instead of painting but these skins should be applied before bonding the tube sections. You will find that they cover up all the alignment marks you make if you follow the instructions so you need to mark the INSIDE of the tubes to use the wraps. You can certainly express your creativity by painting this on your own, but personally I think Jim Flis has expressed his creativity extremely well and the wraps offer a wonderful visual style to this rocket, complete with weld marks, bullet holes, and duct tape. You can save yourself the fin sanding/finishing if you go with the wraps.
Construction, as noted, is fairly easy if you forget the customary alignment practices. You cut the BT-70 into 4 odd pieces using provided templates, carefully marking two different alignment lines on each, along with a top & bottom mark. Flis recommends using red and black markers, which is a good way of mistake-proofing. The tubes are then stacked and bonded one-by-one around a 24mm motor tube that runs the length of the rocket using custom laser cut centering rings. And if you're very careful and pay attention to the instructions and the alignment lines, you will find everything fits very well (well, "fit" for a rocket like this takes on a different meaning). There's also a shroud transition at the bottom that is intentionally long, to be glued then trimmed resulting in a stronger bond to the centering ring. Flis has called this the "Tulanko tail" and it's a new technique I'd never tried before.
Fins are cut from heavy 1/8" balsa stock from 4 custom patterns. You read that right: no two fins are alike. In fact, one of the fins is actually angled to bond across the bend between tube #1 and tube #2.
The nose cone is rolled from a custom template, and has a balsa plug that fits into the 24mm motor tube. Shock cord is 1/2" elastic using an Estes-style motor mount, which was my biggest disappointment about this kit. Using D power I would much rather see Kevlar mounted to a centering ring, and most other Fliskits I've built have featured Kevlar. I finished up by making the 16" plastic chute (Fliskits standard chutes are patterned for 9, 12, or 16" configurations).
There are two launch lugs. One is mounted on the edge of a fin and the other is mounted with a balsa offset to an upper tube. If you follow the directions carefully, you'll find there really is one straight line on the outside of the tubes for the lugs. In my case, I blew the orientation of the shroud, resulting in fins that weren't quite where they were supposed to be, and had to customize the mounting of the lugs a bit, as my rocket has NO straight surfaces. Of course, with a rocket like this, who's going to notice my goof?
Finishing:
As previously mentioned, you can either choose to paint this, or go with free wraps. I chose the wraps, printed them using an inkjet printer onto cardstock (shroud/nose cone) and white label paper (tube & fin wraps). This covered just about every inch of the surface with very slight seams on the wraps. Some edges of fins were not covered (an easily corrected issue with the wrap if Jim's looking for improvement on this) and there's about a 1/4" gap between the shroud and the edge of the tall side of body tube #1. These were colored with magic markers.
One finishing tip I'd suggest, though I wimped out and didn't try it, would be to "weather" the inkjet wraps with a fine mist of water. Jim's prototype was inadvertently weathered this way, and the inkruns and fading actually improve the visual effect for this rocket.
One note on the finished product: my rocket, built using sparing amounts of white & yellow glue and the clay provided for nose weight, came in at 4.3 ounces versus the manufacturer's spec of 2.9 ounces.
Construction Rating: 4 out of 5
Flight:
For it's maiden flight, I chose to drag race with another ACME built by Carl Tulanko. I chose a D12-3 and he flew on a D12-5. (Carl had already flown on a D12-3 which he felt was too short a delay.) The drag race was very close but I think Carl got first motion, I reached almost double his altitude (I'd guess I hit around 450 feet) but I managed to beat Carl back down when two of my shroud lines came unstuck and my chute turned into a streamer. Carl's weathercocked a bit in our 8 mph winds but mine flew straight up without even a spin. Unfortunately, I hit the frame of my canopy/tent and broke two fins. After a quick repair, I flew it later the same day on another D12-3 with a slight spin but great flight. Flight #2 suffered some significant damage--the ejection kicked the motor retaining clip completely out (along with the motor), the balsa plug in the nose cone got burned, leading to separation, and the shock cord while still intact was charred enough to warrant replacement before I attempted another flight. The nose cone separation seems to be a problem on this kit, as Carl's also separated after his second or 3rd flight. I'd recommend a strong epoxy fillet when bonding this unless a more reliable retention method is introduced.
Recovery:
Flights with this are incredible. It's got to be an optical illusion because there's no way this thing should be stable! It flies as well as (or better) than most of my normal rockets. The only con would be the Achilles heel of the elastic shock cord and nose cone plug.
Flight Rating: 5 out of 5
Summary:
I have built more than 250 model rockets at this point, including just about everything in the Estes/Quest lines and have scoured every available archive of plans and designs for "classic" kit ideas to clone. Let me tell you that there's NOTHING like this on the market. No company has ever introduced as radical a design as this, and I am absolutely awed by the innovation and creativity of Jim Flis. I can't imagine how in the world he's going to follow up on this design, but can't wait to see what's next.
Give yourself a whack on the head, get out of the 3fnc standard mode, and build yourself an ACME!
Overall Rating: 5 out of 5