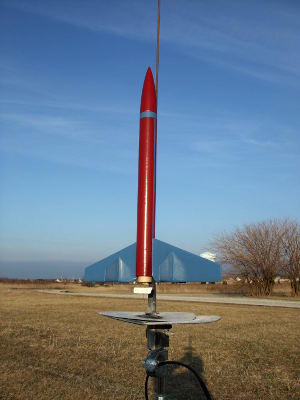 Brief:
This kit was released in October 2008 at NEMROC and is in tribute to Geln Avalear, a longtime friend of Jim Flis who passed away in July 2008. It's a 2-fin plane-like design, simple to build, and clearly aimed at the beginning rocketeer, even potentially as a first kit.
Construction:
Your $12 retail gets you a bag of typically high quality Flis parts and includes:
Balsa nose cone
BT-50 body tube 9"
18mm motor tube
20/13 motor block
50/20 centering rings
Balsa fin stock (cut 'em yourself)
Kevlar® shock cord
Plastic parachute (9" to 16" patterns)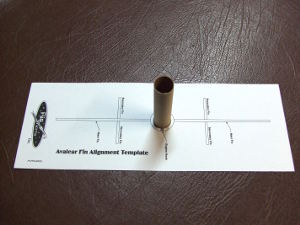 The instructions are well written, with 31 steps over seven 8.5" x 11" pages and every step backed up with an illustration or two. Departing just a bit from typical Flis instructions, this kit includes a Kilgore-like cartoon character peeping down over the points in construction that require critical attention and a number of "thing-a-ma-facts" that are intended to introduce basic rocketry concepts. This is clearly a beginner's kit.
The motor mount is pretty typical, consisting of an 18mm tube, block in one end, metal hook, and a pair of centering rings. There's a Kevlar® shock cord anchored to the forward centering ring, teaching newbies a very good habit compared to the more common but weaker tri-fold paper mount.
Fins are old school, cut by hand from balsa stock using pre-printed patterns. There are 2 main fins and 4 trim fins which are mounted perpendicular to the main fins. Alignment of the trim fins is aided by a guide on the main fin pattern sheet.
Mounting of fins is a little unusual. You do not need to mark the tube (other than for the launch lug), as there's a fixture provided. The "fixture" consists of a stuffer tube which you glue to a pattern sheet. When the motor assembly is glued inside the body tube, then slipped over the stuffer tube, you can use the pattern sheet to mount and align the fins. Since it was somewhat flimsy cardstock, I didn't quite trust it even on a solid surface, so I went ahead and marked my tube anyway for vertical alignment and used the template/fixture to make sure the fins were in line with each other.
The launch lug gets tacked on mid-body, and the nose cone gets a standard screw eye. The last aspect of construction is in cutting and assembling the parachute. This includes the standard Flis plastic parachute which is pre-printed with 9, 12 and 16" chute patterns. For this kit, you'll go with the medium/12" pattern.
Finishing:
There are no decals with this, so I went with a couple contrasting colors trying to imitate the cover art. I filled grains and spirals with Elmer's Fill 'n' Finish, then hit everything with two coats of white primer (Krylon, new formula). I then hit the model with a soft blue base. After allowing that to cure for a couple days, I masked off the main fins, a ring around the top of the body tube, and thin stripes from the fins to the top of the body tube. I then finished off with a Krylon dark cherry red (old formula), which didn't seem to like the primer and blue (new formula), resulting in a slightly crazed and crinkled finished.
Construction Rating: 5 out of 5
Flight:
For the first flight, I went low on the power curve with an A8-3. The winds were puffing around 8 mph. The boost was straight up, with about 2 rotations on a barrel roll during the coast. The motor delay was buggy, going at about 1 second, not 3, resulting in an early deployment.
Recovery:
I'd think about going down to the smallest chute configuration on this, as I drifted about 500 yards on the A8 with a 12" chute. Had I gone with a B or C, I'd have lost it for sure. There was no damage at all as the landing was pretty soft.
Flight Rating: 4 out of 5
Summary:
This is a decent rocket, flies well, and good introductory kit for teaching basic rocket-building skills.
The only con I'd offer up is overly conservative chute recommendation.
Overall Rating: 4 out of 5