Brief
Once available only in a bulk pack, the Estes Generic E2X has recently been released as a stand-alone kit. I don't have much interest in E2X kits, but on occasion I build one to have an idea how tough it might be for a group build. Recently I was in Hobby Lobby, in the mood to build something and armed with my trusty 40% off coupon. I saw nothing that would even allow me to go in a weird direction, nothing I hadn't previously built, and nothing that could be used to start an obscure clone, so the Generic E2X won by default.
Components
Main body tube
Nose cone
Plastic fin unit
Engine mount tube
Engine hook
Retainer ring
Engine block
Launch lug
Shock cord
Parachute
Sticker decals
Construction
I've previously built plenty of rockets that fit this description, the Alpha III, No. 2 Sky Writer, Challenger and Kadet, so nothing about this project was the least bit unusual. This project can be started, finished and flown on the same day, making it a great candidate for a build and fly. I added Kevlar (because I have a lifetime supply,) to the recovery system, but other than that, this was a "by the book" build. I particularly like the fact that the entire build can be done using white or wood glue despite the plastic fin can. Quite clever, Estes.
Finishing
The Generic E2X is an all white rocket, counting on the stickers to provide color, but I couldn't just let that be. Almost, but not quite. I primed the whole rocket, then sprayed the whole thing with gloss white paint. Kinda redundant, I know. When that was dry I masked off the body tube and sprayed the fin can and nose cone with Rustoleum Midnight Black Metallic. I was going for an old Adam-12 cop car feel. I topped this off with a couple of the stickers, but not so many as to make my rocket look like it had been built by the hyperactive Cub Scout I was 45 years ago. I'm proud of the restraint I showed.
Construction Score: 5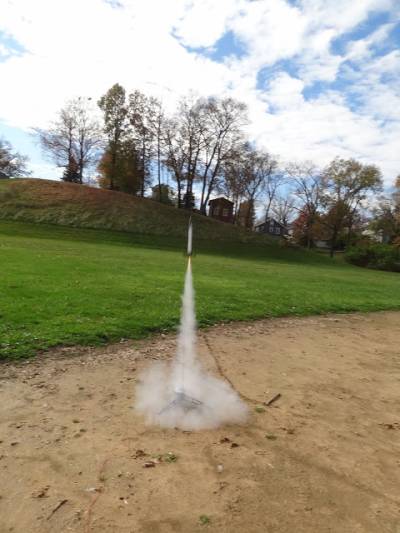 Flight
First two flights were in unpainted "grip it and rip it" mode, which is what I expect a lot of these would fly like. All three flights were at B6-4 Field because it's the kind of field I'd expect a bulk pack of rockets to fly on. (So far that's been my experience.) None of the flights at B6-4 Field were on a B6-4 because why tempt fate if your group of kids want the rocket back after the flight. (Also my experience talking.) That said, the first A8-3 flight was somewhat worrisome, but not because of anything the A8-3 did. The flight was straight to about 250' and the chute popped at the requisite time, but the rocket was facing down and the chute fouled on the fins. It came down fast and flat, hitting hard on the first base line. I was expecting some damage due to the hard hit, but other than some impacted dirt on the body tube and fin can, all was well. Nice bounce, btw. The second flight occurred immediately because my pride was bruised and I couldn't let that boink recovery define my E2X day. Another A8-3, another straight flight to the 250' mark, but this time a textbook infield recovery, sure to elicit a feeling of triumph in any scout or science class kid. VINDICATION!!!! Flight three occurred after the aforementioned paint and sticker job. Another A8-3 to the same height as the first two, but a center field recovery. This wasn't due to any excessive drift, but because I up on the edge of the infield on a breezy but warm November day.
Recovery
Flight Rating: 5
Summary
Pros: East of construction. Looks like what a kid would think a rocket looks like. Durable. Decent performance. A great bulk buy choice.
Cons: Nope. Nada.
Overall Rating: 5