Brief
This is a single stage, baffled, glass reinforced model.
Construction
The kit arrived in a plastic bag containing laser cut 1/8" plywood fins and centering rings, plastic nose cone, elastic shock cord, 24" chute, 29mm motor mount tube, clear concise instructions (on the back of the cardboard label). No decals are included and no paint scheme is suggested, although one can copy the label.
The main BT is not pre-slotted for the 4 fins although the locations are marked in pencil. Fins go only through the BT - NOT to the MM which is curious since the strength of that joint is much greater with TTW to the MM tube fins. C'mon LOC!!!!
On this model you must make provisions for positive motor retention as none is included with the kit. I chose T-nuts and screen door clips. Cheap and strong. There's also no thrust ring so you'll need to make one for your single use motors. I had a LOC baffle lying around so I installed it at the end of the MM tube. It's basically a roll of wire mesh about 3" long that's held in place by a thrust ring. Works well but the small central hole does allow soot through to slightly dirty the parachute. I read somewhere how to correct this but it's too late now! Nomex® now solves that problem.
I reinforced the fin/bt joint with 1 layer of 4oz glass cloth cut so that it follows the leading edge of 1 fin about 3/4" back, down the fin, around the BT, and up the adjacent fin in the same manner. What you wind up with is a strong joint AND fin but with flexibility. On mine the cloth stops just where the leading edge bevel (a la Phoenix) begins its taper.
I mounted a screw eye to the forward centering ring and attached 20' of Pratt Hobbies 1/8" tubular Kevlar®. To solve the weak joint at the nose cone I drilled 2 holes in it's base, threaded some of Pratt Hobbies 1000lb test Kevlar® line to make a loop, knotted and ca'd it and attached the TK to the loop. Very simple, very strong.
Finishing
I had some fun finishing this to look like the flag of Ireland, complete with 4 leaf clovers and leprechauns. I filled the tube grooves with vinyl spackle - they're not as bad as PML tubing and are easy to fill this way.
Construction Rating: 3 out of 5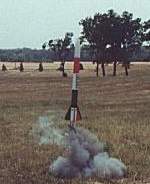 Flight
I plan to Cert L1 with this soon and have so far flown 3 times on F20-4 Econojets. A word about these - lose the label!!! After the 1st flight I let it sit around a while and it became thoroughly glued into the tube requiring major surgery to remove!!
This is the absolute minimum motor for this however produces a great slow lift-off, nice arcing trajectory, and deployment just at apogee. I'm concerned a little with the zipper potential of the TK but I'm hoping I pick the right delays as I move up in motors.
Recovery
These flights were on fairly windy days so I used an 18" chute. This produces what looks like hard landings but the glass reinforcement works perfectly and so far not a scratch!!
Flight Rating: 5 out of 5
Summary
As this was my 1st LOC kit I'd say the instructions are minimal - you'll almost certainly want to modify in ways not mentioned. LOC should make true TTW fins for all it's kits although as recommended motors are in the F & G range perhaps they didn't feel this was necessary. And the elastic shock cord? Again, the above applies.
Compared to Aerotech kits, this was more difficult (but nothing's as easy as AT IMHO).
All in all though I'm pleased with their product and have purchased a LOC EZI-65 as a L2 project.
Overall Rating: 4 out of 5