Brief: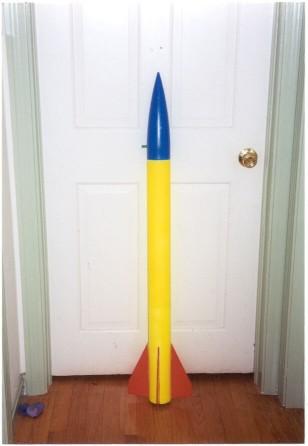 The Forte' is a single staged HPR capable rocket. It can fly on as little as an F up to an H or I, and maybe with a lot of reinforcements, a J350. It is a fairly basic rocket, my second mid-power. I probably could have made it without instructions, it's so easy.
Construction:
It does not have a payload section (Waaaaaaaaahhhhhhh), but I plan on adding one soon. It has a heavy duty cardboard airframe slotted for 4 fins. The fins and the centering rings are plywood. It has an elastic shock cord and a standard through-the-plastic nose cone loop attachment.
There was only one half page of instructions, but it was more that you needed to make the rocket anyway. There was one illustration. The build was easy and it took me a few days of working 1 or two hours a day.
Finishing:
Easy to paint. Just do what is normal.
Construction Rating: 4 out of 5
Flight:
Flew straight on a G80-4T, ejection charge not enough to blow chute. some may have leaked. I had a Nomex® blanket to replace wadding. The rocket fell from over 1,000 feet and not a scratch on it after impact. What a tough rocket! I used a home-sewn chute.
Recovery:
I do not know how fast or slow it would have come down if the parachute came out. That flight it came down rather slowly, for a 3 inch diameter rocket with tumble recovery. Very rugged & nice looking. It is one of my new favorites.
Flight Rating: 4 out of 5
Summary:
This is a very rugged rocket. I think the motor tube should be longer, the shock cord could be longer and tougher, and the fins could be larger but it is an easy build, is very inexpensive, and can put in some very impressive flights.
Overall Rating: 4 out of 5