Brief:
The Stovi is a unique 6-fin HP rocket with parachute recovery.
Construction:
The Stovi comes with seven (7) 24mm tubes and one (1) 29mm tube. It can be construted with either a 24mm or 29mm motor mount. All of the components were high quality that is typical with LOC products. It comes with a 3.1" Diameter airframe and a reducer to 2.26".
The kit was easy to assemble with the instructions provided. I'll admit that I had to think about the method of assembly to incorporate the 29mm central motor tube. It is necessary to remove a 'sliver' from each of the outboard 24mm tubes so that they all fit into the 3.1" diameter airframe. This means that you cannot cluster anything in the outboard tubes. It is absolutely unnecessary to utilize the outboard tubes with the H-128 loaded anyway. (believe me). The fins are 'wedged in the valley made by the two adjacent motor tubes. I did fold some sandpaper and slide it between the tubes so that I could sand the correct bevel on each side of the fins.
Motor retention.... How to do it? I cut 2 circular pieces to insert into the ends of two of the outboard 24mm tubes. I sanded the section out where the interference of the 29mm tubes exists. I couple of blind t-nuts and some epoxy later, I had positive motor retention.
Finishing:
There were no decals with the rocket kit. That is just fine by me, I like creating something unique anyway. The color scheme that I came up with was a combination effort between my son, Alex, and me. I painted the outboard tubes alternately bule and yellow. The rest of the airframe is also blue and yellow with thin yellow or blue monokote strips applied. I cut the lettering out of monokote to put the finishing touch on it.
Construction Rating: 4 out of 5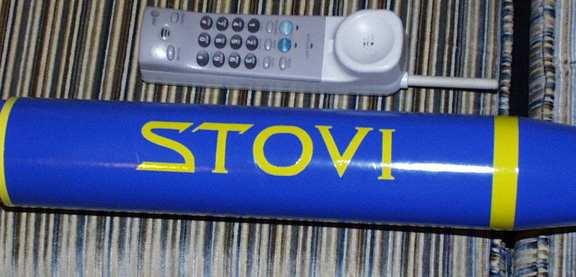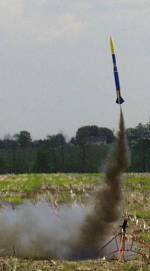 Flight:
I don't really remember what the recommended motors are or if they still exist. It doesn't mater anyway because it's tough enough to handle an H. I have one launch picture that must have been an F because it was really underpowered. At least I got the rocket IN that picture!
Flight Rating: 4 out of 5
This a great rocket. It looks and flies great.
Overall Rating: 4 out of 5