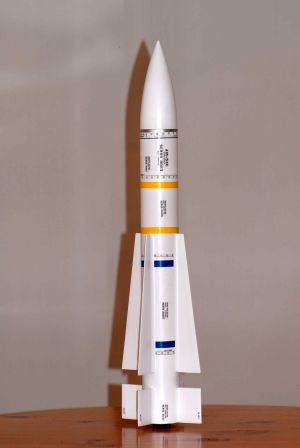 Brief:
I have been fortunate enough to be given this sport scale version of the AIM-54C Phoenix long range air-to-air missile by Mike Stoop as a beta for construction and testing. This review looks at the components, construction and ultimately the maiden flight of this 4" mid power rocket.
Construction:
Parts list:
1 Nose Cone and eye bolt
1 Pre-slotted body tube
1 Forward body tube
1 Coupler
2 Centering rings
1 38mm motor tube
8 ¼" Plywood laser-cut fins
1 Eye bolt and nut washer
1 Nylon shock cord
1 12" x 12" Nomex® chute protector
1 36" Nylon chute
2 Rail buttons and screws
1 Vinyl decal sheet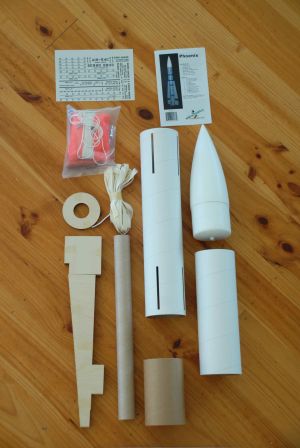 The parts provided in the kit are top quality with heavy walled body tubes, precision cut ¼" plywood fins, an 18" long 38mm motor tube with appropriate plywood rings, a molded plastic nose cone, heavy duty nylon shock cord, chute, and heat shield protector. Everything was packaged neatly and arrived in Australia unscathed.
The instructions take you through a very clear sequence of assembly and were easy to follow. Each step was carefully explained and the more complex steps were aided with self-explanatory illustrations. Everything fitted together precisely and the slotted body tube made attachment of the through-the-wall fins a breeze.
Although not discussed in the instructions, I decided to make 10 degree bevels on the fins to theoretically improve the aerodynamics of the rocket. This was performed using a jig, set with its face at 80 degrees to the horizontal against a vertical sanding wheel.
I also wanted to strengthen up the through-the-wall fins with some internal as well as external fillets and this required me leaving the aft center ring off during the construction of the model so that access to the motor tube was available. Once construction was complete, this ring was epoxied into position.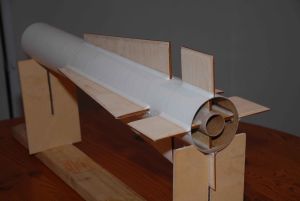 The instructions suggested that motor retention was required, however, this was not supplied. I decided to use an Aero Pack 38mm motor retainer as I had one spare, but I have used the Madcow retainers before, which are a simpler design, but equally effective.
Madcow provided rail buttons with this model, which are a great idea. Unfortunately, I don't presently have access to a rail (soon to be rectified) so I decided to use 2" x 5/8" brass tubes, each about 2" long instead. As the rocket was heavy (approx 70oz) I thought a ½" launch rod would be a minimum requirement. These tubes were positioned at the CG and about 1" forward of aft.
Finishing:
I used a wood filler to fill the plywood fins and the spirals in the cardboard and then used 3 coats of primer using 120 and 240 grit sandpaper in between each coat. The final finish was achieved with 3 coats of Krylon white semi-gloss and a silver coat to make a stripe at the forward end of the body tube. Special care was taken to get the paint to stick to the plastic nosecone and a nice result was achieved eventually.
The vinyl decals were good quality and easy to use. They appear to have been reproduced from the missile itself and added a high level of authenticity to the rocket. I used colored electrical tape for the blue and yellow stripes on the body.
The dry weight for the rocket was stated on the instructions to be approx 60oz, however, with my liberal use of epoxy and paint and once ballast was placed in the nosecone to get the CG forward, it ended up being about 70oz.
The kit allows you to make a great looking sport scale replica of the AIM 54-C Phoenix and is relatively simple for a mid-power rocket.
Construction Rating: 4 out of 5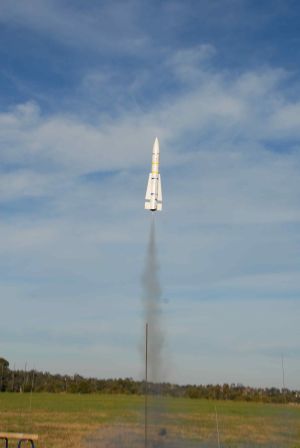 Flight:
The minimum recommended motor for this rocket is a G80, so I decided to try this first. I used an Aerotech G80-4T for the maiden flight. Flight conditions were cool with clear skies and a gentle breeze. The Phoenix lifted off the launch pad in a slow majestic manner which correlated well to the thrust to weight ratio. The rocket flew straight and true to an estimated altitude of 350'. Ejection was just after apogee and its nose was just turning down.
Recovery:
As usual, the Madcow kit was supplied with a good quality 36" rip stop nylon chute and a 12" x 12" Nomex® chute protector. The shock cord was a heavy 6mm tubular nylon, which is appropriate for a rocket of this size. I decided to use a 58" chute only because I was not expecting the rocket to fly very high (hence, not much drift) and I wanted a soft landing on the hard ground of our launch site. The rocket landed about 50 yards from the pad.
Flight Rating: 5 out of 5
Summary:
I really enjoyed building and flying this rocket. The materials are top quality and presented in such a way as to make construction precise and simple. The decals make it a great looking sport scale version. This rocket requires a minimum of a G80 motor and is great on H motors and is therefore appropriate for an experienced flier.
Overall Rating: 5 out of 5