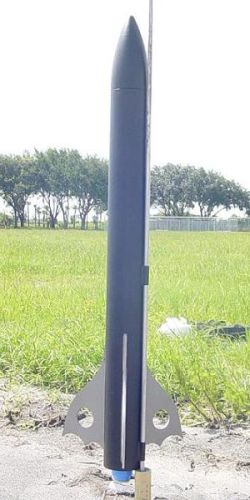 Brief:
The Madcow Rocketry Batray is a new 2.2 inch diameter MPR kit with bat wing shaped fins. It can be flown on a wide variety of motors, both BP and AP (composite) 24mm and 29mm. It will fly on anything from an Estes D12 up through SU and RMS F class motors. Each flight returns safely with an 18 inch nylon chute.
Construction:
This kit came neatly packaged in a thick plastic bag and included the following components:
1 body tube
1 balsa nose cone
2 centering rings
1 motor mount tube 29mm
3 laser cut ply fins
1 nose cone eye bolt, washer and bulkhead
2 nuts
1 Kevlar and nylon shock cord
1 Nomex pad
1 18 inch nylon parachute
2 1/4 inch launch lugs
1 vinyl name decal
Madcow's instructions are excellent. They are in a very logical order and have excellent illustrations showing how each step is to be completed.
As for the build, I would rate this a mid skill level 1. Anyone that can build a regular low power kit would have no trouble with this kit. Madcow's intentions are to get those who are interested into MPR easily and quickly.
Although 5 minute epoxy is recommended for construction, I used my regular 30 minute Pacer Z-poxy for construction.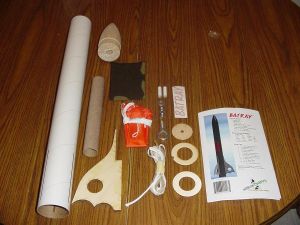 I started the construction by adding two blind nuts to the rear centering ring as a means of positive motor retention (PMR).
I then attached the centering rings to the motor tube as instructed. You will notice a notched ring. This one has to go up front as this will route the shock cord up through the body tube.
I attached the Kevlar shock cord next and then tied the nylon cord into place.
After the motor mount as completely dry, I mixed up a good quantity of 30 minute epoxy and pushed it into place. You need to make sure the shock cord is not in line with a fin slot or you might have a problem attaching that fin later on.
The next step, once the MMT epoxy has cured, is to draw a straight line in between two fin slots. This is for the two launch lugs that will be attached later.
At this time, I mixed up another batch of epoxy and attached the three fins while checking for proper alignment. After the fins were dry, I applied fillets to the fin/BT joints for additional strength.
I then attached the two lugs and applied fillets. As that was drying, I went ahead and assembled the NC bulkhead assembly. Once that was cured, I mounted it to the base of the NC as instructed.
This wrapped up the construction and I sanded the NC and also cut and sanded away some small epoxy lumps to prepare the model for finishing.
PROs: Builds quick and easily.
CONs: None really.
Finishing:
I started by making sure everything was smooth and I sprayed the model with Krylon gray primer, sanded, and sprayed on another coat of primer and sanded again.
I then painted the model with three light coats of Krylon Semi-flat black. After the black paint was dry, I masked off the body and sprayed the fins with some Plasti-Kote metallic Pewter paint.
After everything was dry, I then applied the name decal. I did initially have a bit of a challenge trying to get the letters to stick to the top strip but once I accomplished that, the decal went on nice and easily.
If you have never used vinyl decals before, you are in for a treat. They are easy to use and look great.
I then attached the Nomex pad and parachute and tied the shock cord to the NC to finish the model.
When this rocket is finished, it looks sharp. Especially with the Pewter paint job on the fins.
PROs: Easy and quick finishing, just a simple two color paint job. No complicated masking here.
CONs: None that I can think of.
Construction Rating: 5 out of 5
Flight:
The recommended motors for this kit are:
Estes 24mm
AeroTech
24mm and 29mm SU
AeroTech 29mm
RMS
D12-5
(D12-3 works better)
E15-7W
E16-7W
E23-5T
E9-4
F20-7W
(Econojet or LMS)
F22-7J
F40-7W
Because of the Nomex® pad, no wadding is really required but I did use some dog barf wadding to protect the Kevlar® cord.
For my first flight, I friction fit a 24mm adapter and Estes D12-3. The 5 second delay seemed a bit long to me.
The rocket lifted off rather slowly but flew straight to maybe 400-500 feet and the 3 second delay popped the chute out right at apogee.
My second flight was on an Estes E9-4. This also is a great motor for this kit but I would only recommend it for calm or nearly calm conditions since the boost off the pad was slower than the D12. However, since this flight was on a calm day, the nice 3 second burn of the E9 gave me a nice straight flight to maybe 800 feet.
On the third flight, I loaded up one of my favorite motors for a kit this size: the AeroTech E23-5T reload. I used a screw and clip to retain the motor casing. This motor gave the Batray a swift kick off the pad up to maybe 850-900 feet. This is typical of the small Blue Thunder loads.
PROs: Flies great on a wide variety of motors.
CONs: None.
Recovery:
This rocket uses an 18 inch nylon chute for recovery and it turned out to be the perfect size as none of my flights wandered that far from the pad and the rocket landed softly each time.
I also have not noticed any wear and tear on the shock cord, Nomex® pad, or the chute.
PROs: Recovers very nicely on the provided chute.
CONs: None at all.
Flight Rating: 5 out of 5
Summary:
Madcow Rocketry has certainly done an excellent job on this kit. It was easy to build, looked great when finished, and flew even better. I also like the fact that Madcow includes excellent recovery gear with their kits. The only thing I did was add the blind nuts so I could have a form of positive motor retention.
Also, Mike Stoop of Madcow is excellent to deal with, should you hit a snag or have any problems.
At this time, I'm not sure how much this kit will cost. My guess is in the $30-$45 range, but this is well worth the price for what you get.
Main PROs: Top notch instructions, component quality, ease of build, finished appearance, great flight and recovery characteristics.
Main CONs: None at all.
Overall Rating: 5 out of 5