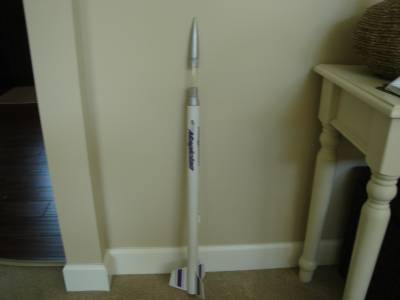 Brief
The Magician is a typicial Estes rocket with D and E engine power. Some of the parrts had to be sanded down to fit. The only problem was the coupler and the main body tube and lower body tube was a very tight fit and was hard to push down. All the parts were good the balsa fins were excellent.
Components
Engine mount tube
Engine hook
Green centering rings
Engine block
lower body tube
Red body coupler
Upper body tube
Laser-cut fins
Laser-cut fin guide (an unusal part - it helps you align the fins)
Balsa tube adaptor
Clear payload section
Balsa nose cone
Launch lug
Sccrew eye
Shock cord - 30" in lenth
Parachute 18"
Orange D engine spacer
Shock cord mount
Decals
Construction
Pros:
The instructions were easy to follow, finishing the rocket was very simple, and all the main parts fit.
Cons:
Some parts had to sanded down.
Finishing
Finishing of the kit was really easy. The instructions didn't really go into detail and were very brief.
I applied three coats of Areo Gloss sanding sealer and sanded it down with 300 grit and 400 then all the way up to 600 grit. For the body tube, I put Testors contour putty on a putty knife and put it along the body tube. Then I sanded it down just like with the fins.
When I primed the rocket for painting, the fins had no wood grain and no body tube sprial. Painting was good. I used gloss white and the fins were just like glass and the same with the body tube. Decals were waterslide and they were excellent allthough the pin stripe on the fins decal wasn't long enough.
Flight
I used a D12-5. I think the motor selection was a good one. The prep of the rocket is a little challenging beacause the motor tube is little bit too small. So, I had to peel off a layer of paper from the motor.
Recovery
Recovery was perfect. The parachute was the perfect size. The shock cord is long, so I put an snap swivel on the parachute so the lines won't tangle.
Summary
I think Estes did a fantistic job of manufacturing this product and I hope they continue making this rocket. It was a fun kit to build.